Sunday, June 9
     Cartwright, NL to Red Bay, NL
     211 miles; cloudy; temps mid 40′s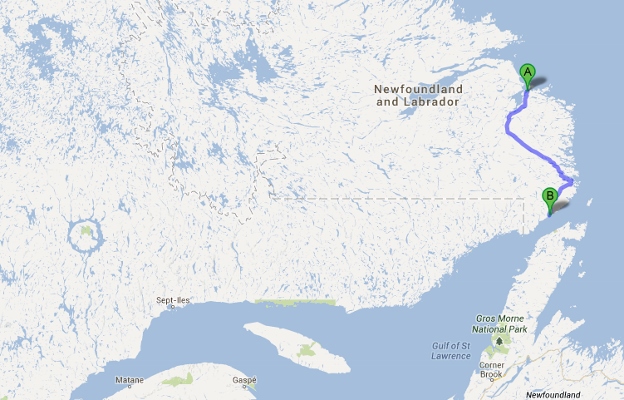 This was our final day on the Trans Lab. We took route 510 from Cartwright on the north coast to Red Bay in the south.
For most of the way the road was in good condition, well maintained with a nice hard surface with gravel on top, and often with clear tracks to ride in. On road like this we could confortably ride 40-50 mph.
Just south of Cartwright we passed by Sandwich Bay. The large bodies of water in Labrador and the many streams and rivers create a beautiful landscape surrounded by the flat topped mountains.
The road was dry today, and large trucks kicked up a lot of dust. Pickups going like crazy created even more dust!
Along the coastal region of Labrador the terrain is more alpine as compared with the boreal forest in the central region.
We found the southern portion of the Trans Lab, from Port Hope Simpson to Red Bay, to be in the poorest conditon. The most difficult aspect was a layer of up to an inch of fine crushed rock and sand, on top of which was more or less gravel. Even cars on this section complained of the bad road, poor traction, etc. We got various reports from locals familiar fwith the road and apparently the poor conditions are a combination of new rocks added to the road last fall that became crushed with use, and the sand spread on the road in the winter to make it passable. Whatever, this was by far the most difficult section to ride, and we thought we were going to drop our bikes a few times but, luckily, it never happened. The road also had large rocks coming through the surface in a few places, and large potholes in other places.
We finished the Trans Lab around 6 pm. We both felt a sense of accomplishment — I was almost giddy with excitement.
We stayed in Red Bay for the night in a cabin right along the bay, looking out at Saddle Island where the Basques had set up their whaling station in the 1500's to extract whale oil.
Red Bay is especially scenic, nestled along the shoreline of this historic area. The local people go out of their way to welcome visitors and answer questions about the history of the area, and explain what life is like in this quaint village of 500 along the harsh North Atlantic coast.
This was no doubt the most memorable day of our trip — we  completed our ride of the Trans Lab and we spent the night in this historic and beautiful little village right along the shore.