Friday, June 6
     Ashland, WI to Mackinaw City, MI
     386 miles
Dan and I parted ways this morning – he riding south through Wisconsin, Illinois and Indiana to southwestern Ohio, and I riding east across the Upper Peninsula and down through Michigan to Cleveland.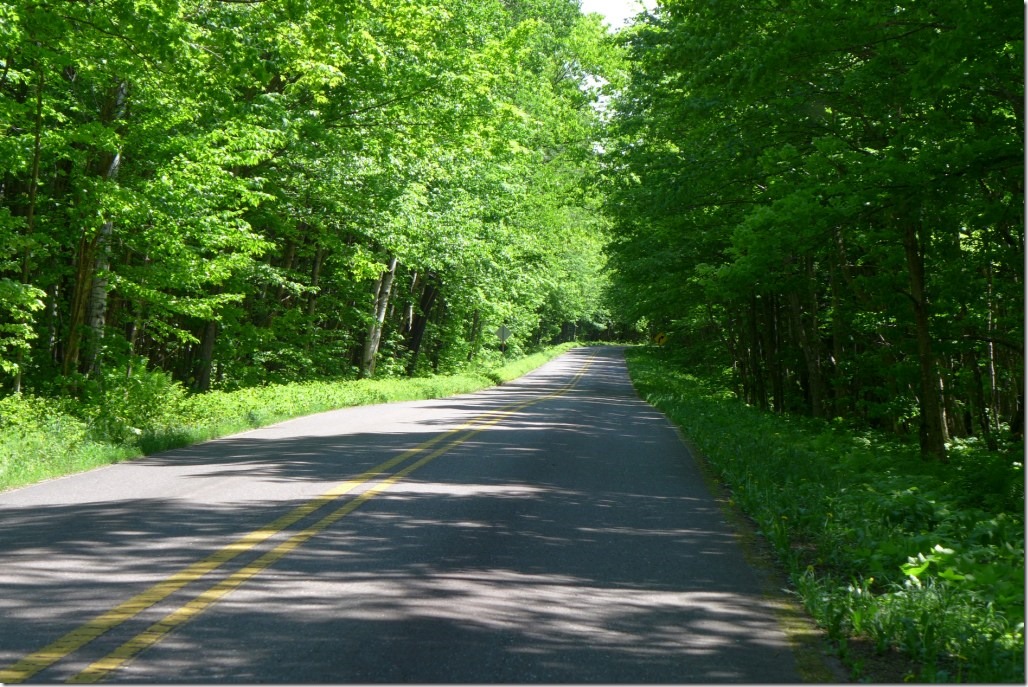 It was an unusually spectacular day for riding – cool, dry air with a slight breeze, and magnificent white clouds against an azure sky. The urge to venture off the main road was overwhelming, and the South Boundary Road in Porcupine Mountain State Park immersed me in the new spring foliage. The leaves were a lush green, fresh from a spring rain, and luminous in the bright sun.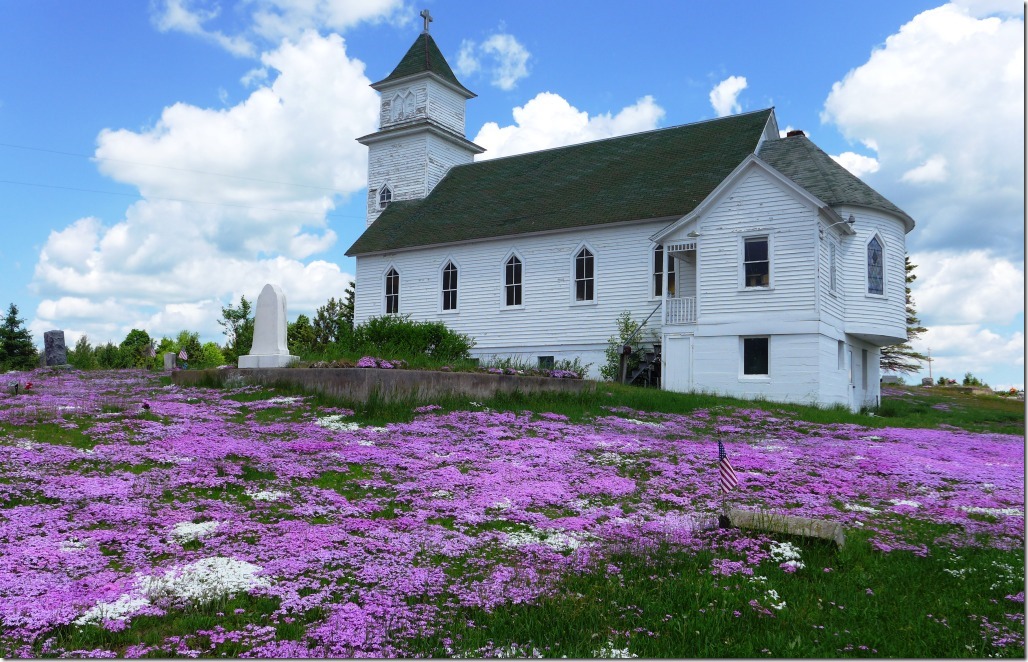 The lavender Aubrieta in the Nisula Lutheran Cemetery were dazzling against the backdrop of St. Henry's Church at Nisula on route 38.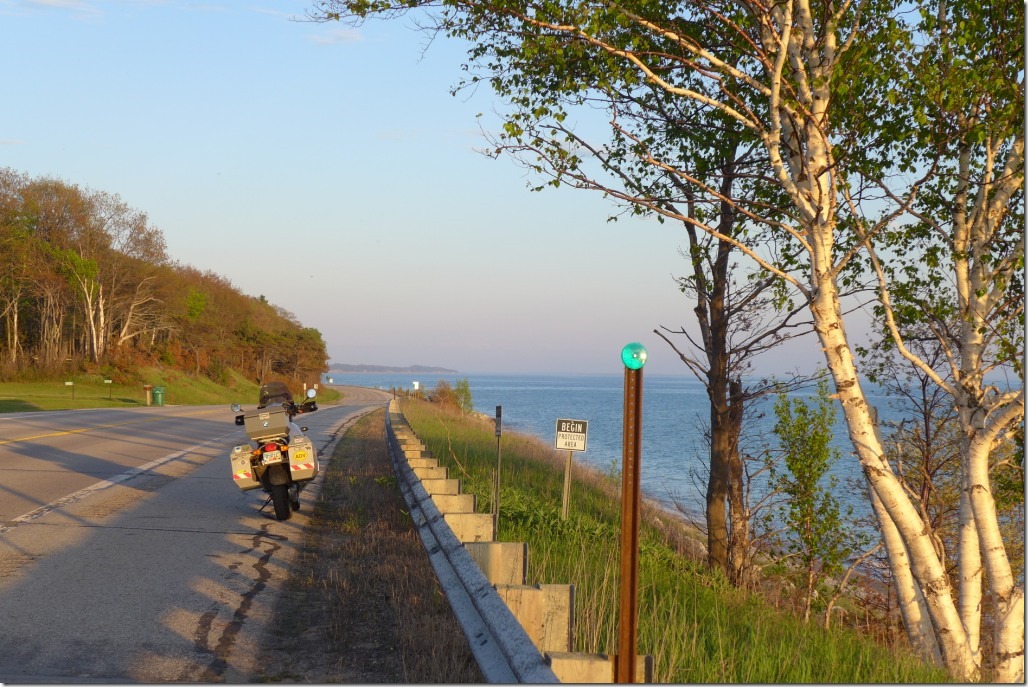 By the time I made it down to the north shore of Lake Michigan near the Straits of Mackinac late in the day, the sun was basking the landscape in a soft warm glow.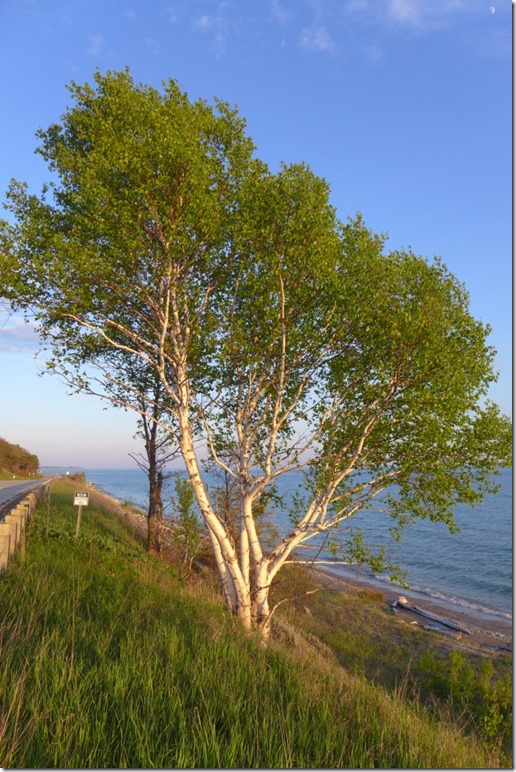 The Upper Peninsula was resplendent it its spring colors today, and white bark of this clump of Aspens against the purple sky and deep blue waters of Lake Michigan was dazzling.
Soon the Mackinac Bridge came into view, obscured by a cloud of Mayflies.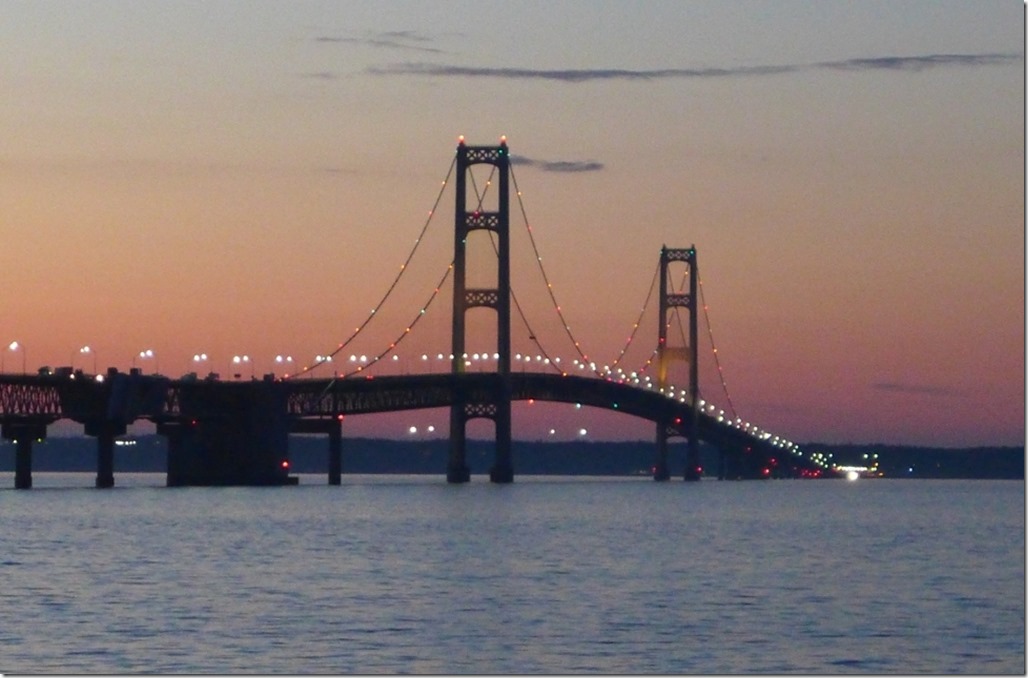 I found a comfortable, clean room at the Rivera Motel overlooking the Straights of Mackinac and took this shot of the bridge lit up against the fading sky. It had been a long day, but a memorable one, enjoying the outstanding beauty of the Upper Peninsula.
Saturday, June 7
     Mackinaw City, MI to Cleveland, OH
     455 miles
Today was the longest day of the trip in terms of miles, and I just sat in the seat and ground it out. I was hot and uncomfortable, but frequent stops for cool drinks and a nap made it bearable.
By the time I got home the front of the GS gave plentiful evidence of the miles covered on the trip. It had been a good adventure. The road to Churchill and the sight of the Hudson Bay were highpoints, followed closely by what I learned about Mennonite history, and the wonderful ride across Michigan's Upper Peninsula in springtime.