Owned:  Jan '05 – Apr '09
Miles ridden:  22,836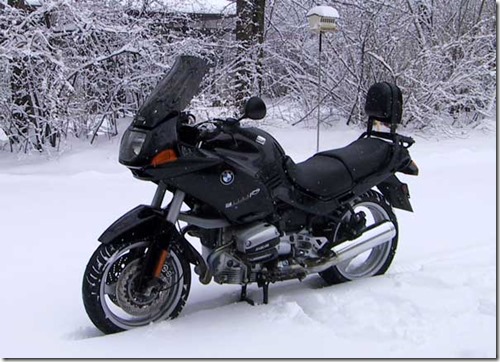 While in Minneapolis over the New Year holiday I happened upon a 1999 R1100RS in perfect condition with a price that absolutely couldn't be passed up. I'll admit I was thinking of getting something more comfortable for 2-up touring with my wife next summer, and this seemed like the perfect solution. It would make a good touring machine, and it would also be a great ride around town and for short day trips. So we made a deal and trailered it home to Cleveland. Here are a couple of photos inspired by the cover of the December 2004 issue of the BMW Owners News…
The R1100RS is a traditional BMW Boxer bike and the first of the new "oilhead" generation. It was the first to incorporate BMW's innovative new telelever front suspension which essentially eliminates front dive on hard braking. The RS also has ABS brakes, a 5 speed gearbox, and paralever rear drive.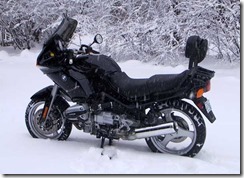 The previous owner added the RCU backrest, Aeroflow windscreen, and Metzler Z6 steel radial tires which I can't wait to try out. Also added were dual FIAMM horns, an Autocom intercom, and barbacks.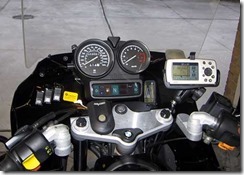 Here is the new Garmin Quest GPS my wife and kids gave me for my 60th birthday.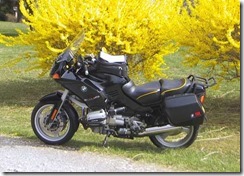 My first "tour" was to the East Liverpool area along the West Virginia border. The forsythia provided a perfect backdrop for the yellow piping on the new Corbin seat. You can also see the new taller Parabellum windscreen and the Wunderlich tank bag. Both make great additions for touring. I also added a Kisan headlight modulator and running lights and turn signal canceller to improve conspicuity, Hyper-Lights LCD taillights, and a headlight relay from Eastern Beaver to improve the output of the headlight. Later I added PIAA 1100X driving lamps mounted with Martin Fabrications brackets.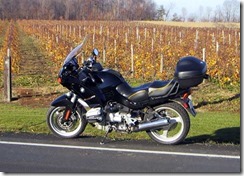 In the vineyards of Ashtabula County, Ohio, in fall 2005.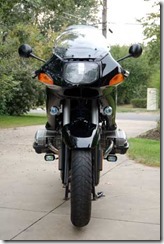 When aimed to complement the high beam headlight for night time driving the PIAA 1200's (upper pair) were too bright for daytime driving lights. So I added PIAA 1400 fog lights under the jugs where they do not blind motorists and will be most effective in foggy conditions.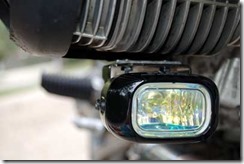 I experimented with various ways to mount the PIAA 1400's, wanting them low and out of harm's way should I drop the bike. At long last I settled on a simple method – I fabricated a mount from aluminum stock readily available at Home Depot, approximately 2.5 x 3 inches, and fastened it to the head guards with two machine screws. Then I attached the PIAAs to the aluminum mount using two small bolts. You can see above that I made a small bend in the mount so I could aim the lights parallel to the ground (the underside of the jugs are angled down).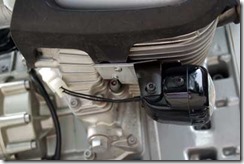 I attached the mount to the lower center arm of the head guard. I made a small cutout near where the fillister bolt attaches the head guard arm to the head so I could keep the light as far inboard as possible.