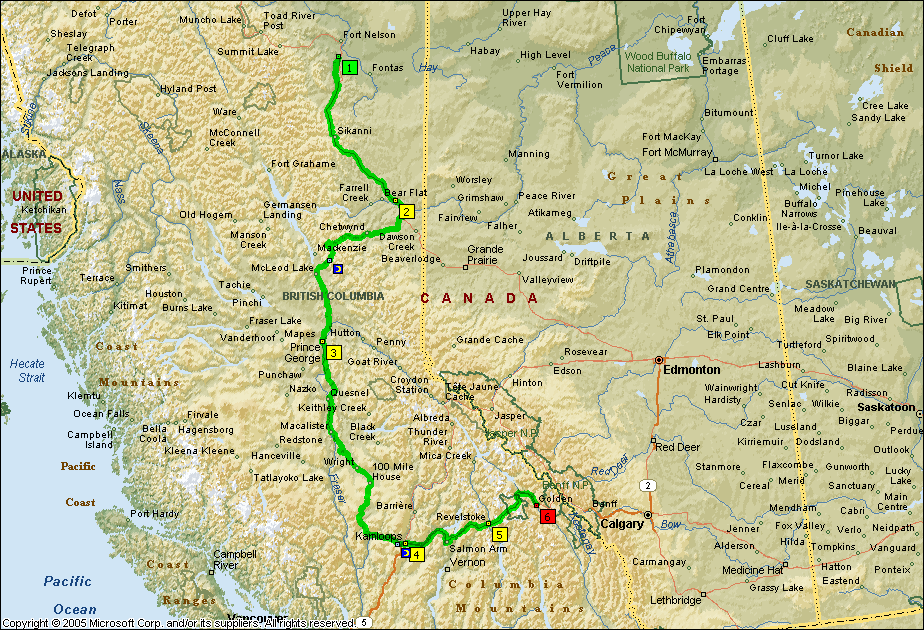 On the way back I made my way down the western side of the Canadian Rockies to Kamloops, then through Glacier National park in BC. I encountered the warmest temperatures of the trip on this segment – 107 degrees in Kamloops!
Day 33 – Tuesday, July 3 – Fort Nelson to Fort Saint John
I decided not to try the Cassiar Highway (route 37), something I had really hoped I could do because of its remoteness, scenery, and wildlife. So I stayed on the Alaska Highway and headed down through British Columbia.

I thought I had finished the scenic portion of my trip, but today's ride across the northeast corner of British Colombia rivaled that of most any other day. The Alaska Highway makes its way through the Northern Rockies where the elevation is between 2,000 and 3,500 feet. It was overcast most of the morning, but not rainy. The expansive views just went on and on. I'm not certain, but the snow covered mountains in the distance may be the Cassiar range.
By afternoon the sun came out and as I neared Fort St. John the clouds were magnificent – the colors in this photo are no exaggeration! I will remember this day as one of the best of the trip.
This was also my longest ride of the trip – 555 miles – but I managed OK. Tonight I will plan my route down through BC to Missoula, Montana, where I hope to get my oil changed Monday morning before I head back to Minneapolis.
Day 34 – Wednesday, July 4 – Fort St. John to Quesnel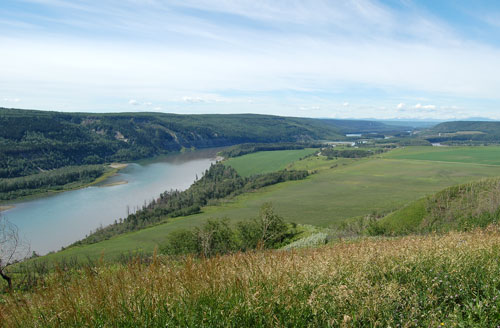 Not many pictures today, since I had traveled most of this route on my way up. Just west of Fort St.John, however, the road followed the storied Peace River for a few miles. The Peace River valley is a rich agricultural land.
These were the first hay bales I had seen for days – the first tilled farm land, in fact – and it was a pleasant sight. This field bordered the Peace River.
Day 35 – Thursday, July 5 – Quesnel to Salmon Arm
Today I continued on down highway 97 to the Trans Canada highway and rode east to Kamloops. Several people had told me Kamloops was a desert, but I didn't believe them. Wrong! The temps got up to 107 degrees, and I was wilting fast. Fortunately, I found a bike shop in Kamloops that would change my oil and filter, so I got to hang out in the AC for an hour or so, then made my way east to Salmon Arm where I spent the night.
Day 36 – Friday, July 6 – Salmon Arm to Bolder
After dinner last night I noticed a little puddle of oil under my bike. Not good. I wiped off the filter cover where drips were, and hoped that that would be the end of it, but In the morning I found more drips. It turns out the bike shop in Kamloops hadn't used a new o-ring when they installed the filter cover. There, in the 90 degree heat on the sun baked asphalt parking lot, I drained the oil, installed a new o-ring, and put the oil back in. It was a mess! Moon Jung, the manager of the Super 8 motel in Salmon Arm, and Ann, the woman at the front desk, were magnificent in helping me cope with the situation. They provided an empty milk jug, dish pan, rags, etc. which I used to get the oil out and back in, and then let me clean up in their washroom. I'm staying in a Super 8 again tonight – they can't all be as accommodating as Mr. Jung's motel but the experience there left me with a very positive feeling about Super 8's. I checked this evening, and there were no more drips under the bike.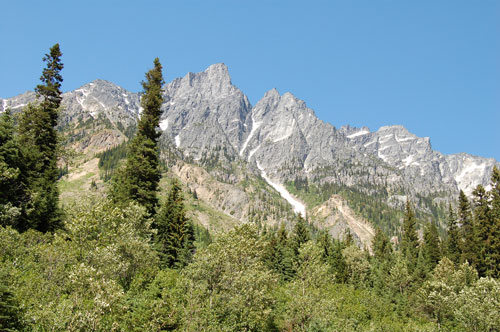 The Trans Canada highway goes through Glacier and Banff National Parks on it's way east. This shot is from Glacier Park. The mountains were distinctive – the most rugged and steep I can recall. They must be young mountains – not rounded off by weathering or glaciers.
Although this photo doesn't show it well, the north face of this mountain (shaded) appeared to rise straight up, or even overhang a bit. It was really striking. It continued hot today – in the low 90's – so I stopped early for the day. The forecast is for the heat to continue the next few days, so I plan to be up and on the road by 5 a.m. tomorrow and stop by noon or shortly thereafter.
When the temps get above 90 it gets pretty uncomfortable in my leather pants, riding jacket, boots, helmet and gloves. A Harley rider at one of my stops today suggested I shed some of the gear. It was tempting, but I wear the gear I'd want to be in if I crash. A few minutes later a road worker commented that I look like I'm dressed for snow. These conversations didn't make me feel more comfortable, but safer.