Tuesday, June 3
     Ashern, MB to Baudette, MN
     277 miles
Now that we were back in civilization we were pretty much in the mode of just ticking off the miles to get home. The most direct route from Ashern to Ely, MN (where Dan's sister and brother-in-law live) took us through Steinbach, MB, a settlement founded in 1874 by Mennonite immigrants from the Ukraine. Fortunately, we took the time to visit the Mennonite Heritage Village, which included an interesting and very informative museum. We were about to be exposed to more Mennonite history…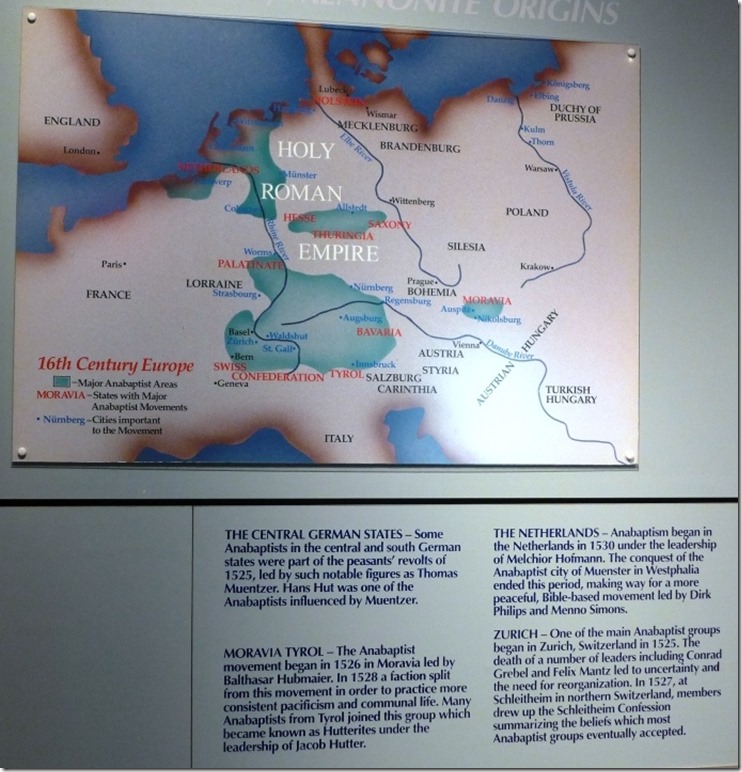 From my days as a student at Goshen College I knew that Anabaptists originated in the early 16th century during the Protestant Reformation, chiefly in Switzerland and the Netherlands, but that was about it.  This display shows these two major groups, and also includes the Moravian group which later became Hutterites, along with a smaller group originating in Central Germany. My ancestors came from the Swiss group. The Mennonites in Manitoba came from the Dutch group.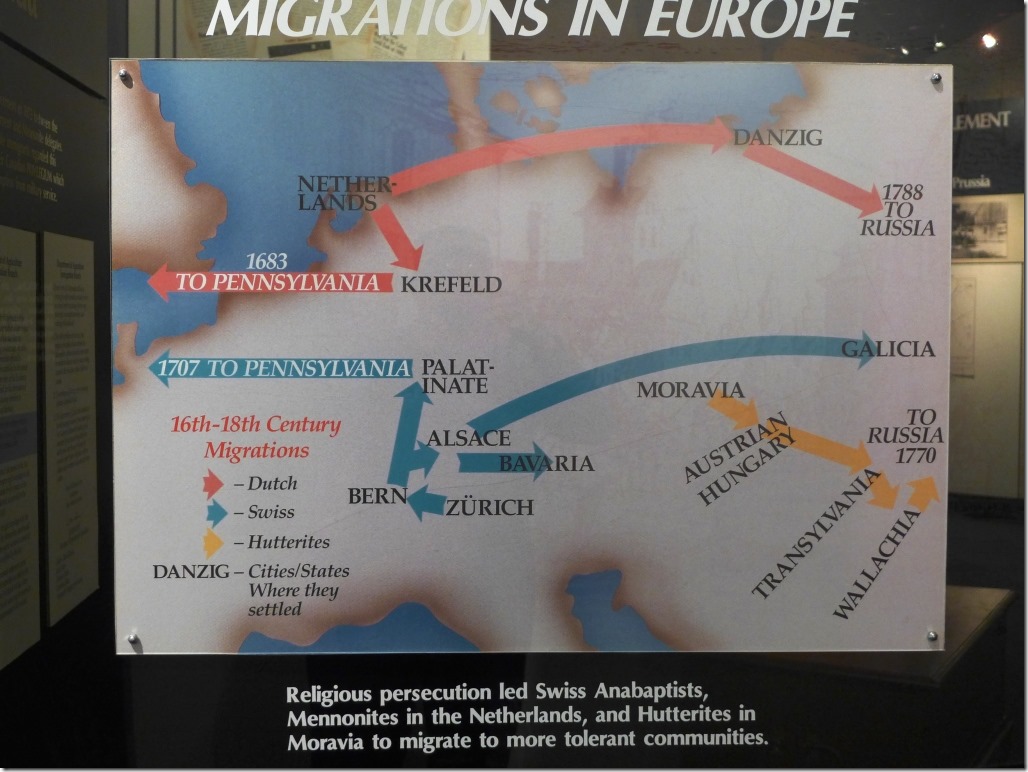 This graphic shows the early migrations of the Mennonite groups in Europe. The Anabaptists believed that becoming a Christian and being baptized should be an adult decision, and that membership in the church did not go along with being a citizen of the state. Anabaptists were considered a threat by state governments who believed that people became members of the state sponsored church when they were baptized as infants. Being an Anabaptist (re-baptized) was considered a capital offense during the 16th century and thousands were put to death for it. The Anabaptists responded by moving to more tolerant areas in Europe.
Eventually almost all Mennonites left Europe and emigrated to North or South America. By and large, the Swiss Mennonites emigrated directly to the United States. The Dutch Mennonites, on the other hand, emigrated to Poland and the Ukraine before coming to Canada in the late 1800's. Some of the Dutch Mennonites also settled in Paraguay and Bolivia, and it was there that Dan met them 50 years ago as a PAX volunteer.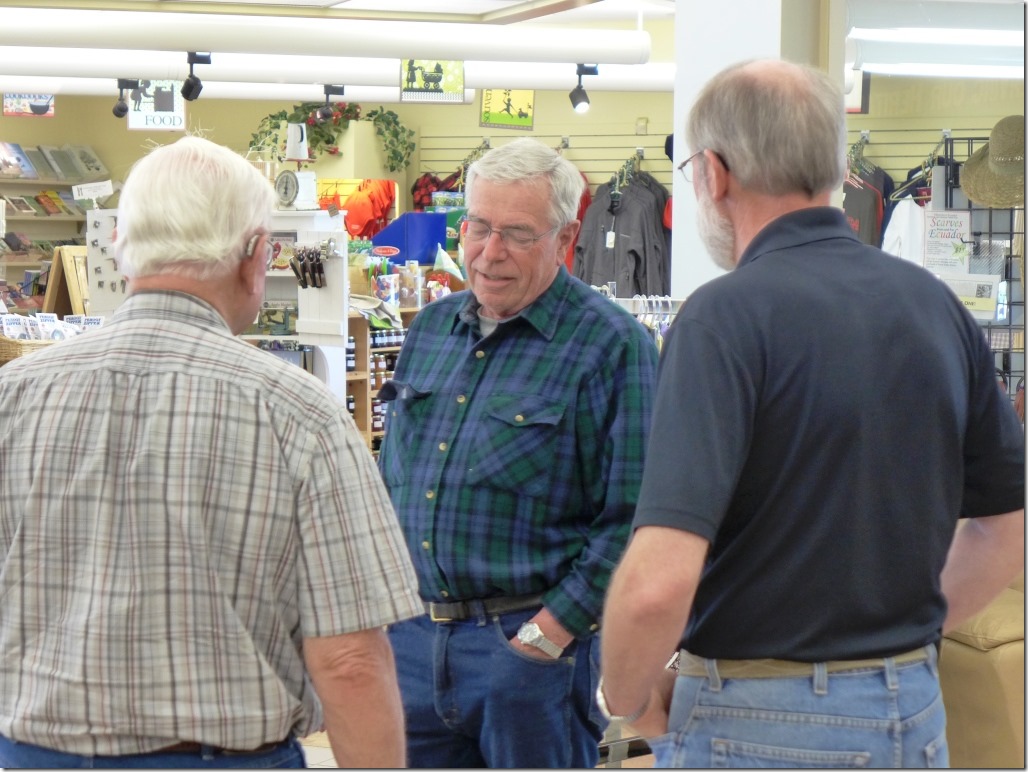 Dan was interested to chat with some of the local people we met at the museum. Some of them could speak Plautdietsch, a low German dialect that evolved during the time the Dutch Mennonites lived in Prussia and Poland. Plautdietsch is still spoken today in some of the Mennonite homes in Manitoba, and we heard it spoken by some of families visiting the historical village.
After several stimulating hours at the Mennonite Village, complete with a lunch of borscht and homemade bread, we left Steinbach and headed southeast. We knew we were low on gas, but thought we'd find a station along the way. Not! We learned another lesson…
Wednesday, June 4
     Baudette, MN to Ely, MN
     193 miles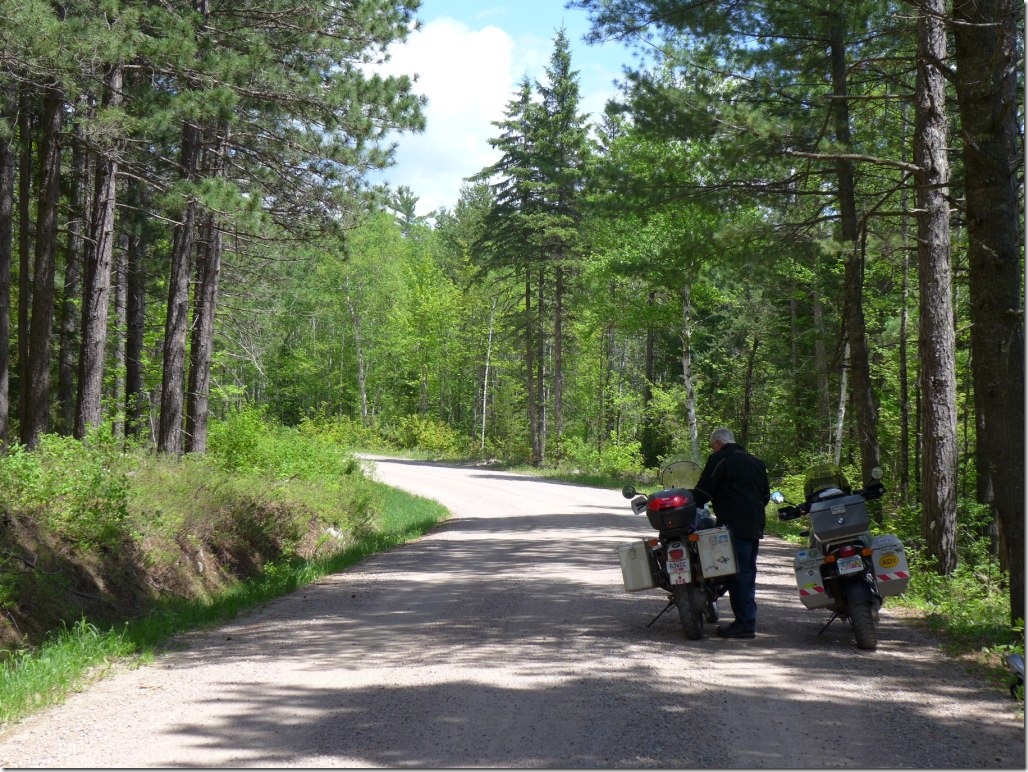 It was sunny and cool this morning, perfect for riding. We took back roads for the short ride to Ely. This is route 116, Ely-Buyck Road, through the Superior National Forest.
Dan's sister Liz and her husband Perry live on a lake south of Ely in a unique and functional home they had built.
The sitting room looks out onto the back yard where a black bear occasionally comes looking for food. Liz prepared a delicious breakfast for us with Dan's help, while Perry worked on his writing in his office in the loft.
Thursday, June 5
     Ely, MN to Ashland, WI
     169 miles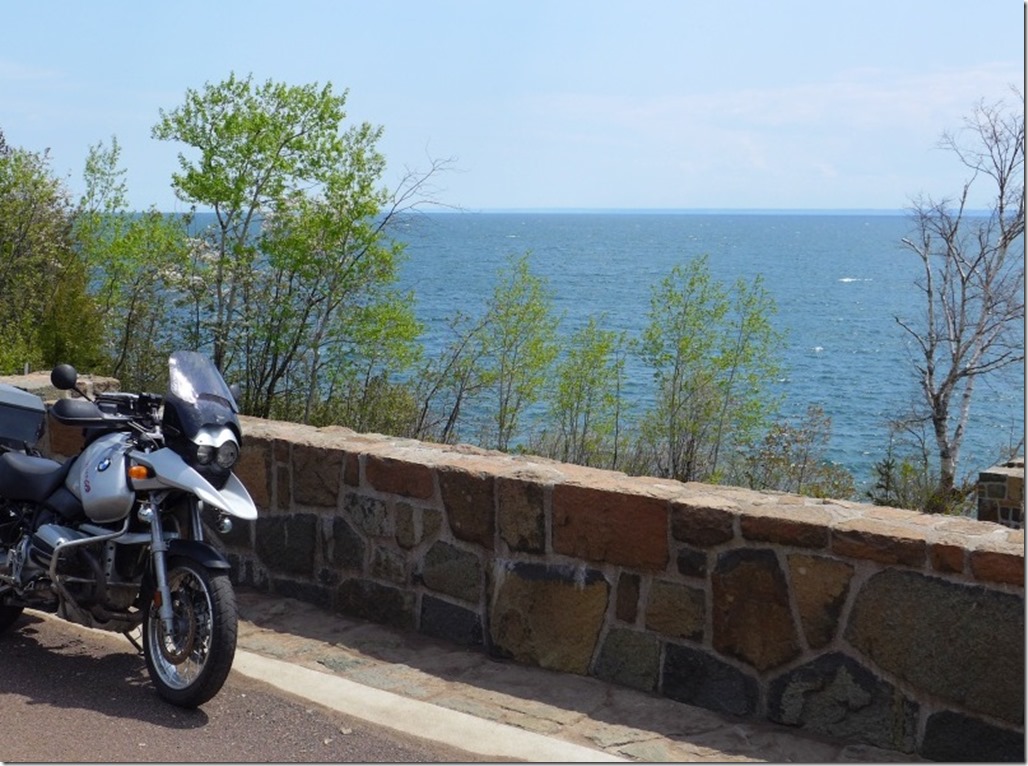 We rode south of Ely to route 61 along the north shore of Lake Superior. Again, we had a cool, sunny day – perfect for riding!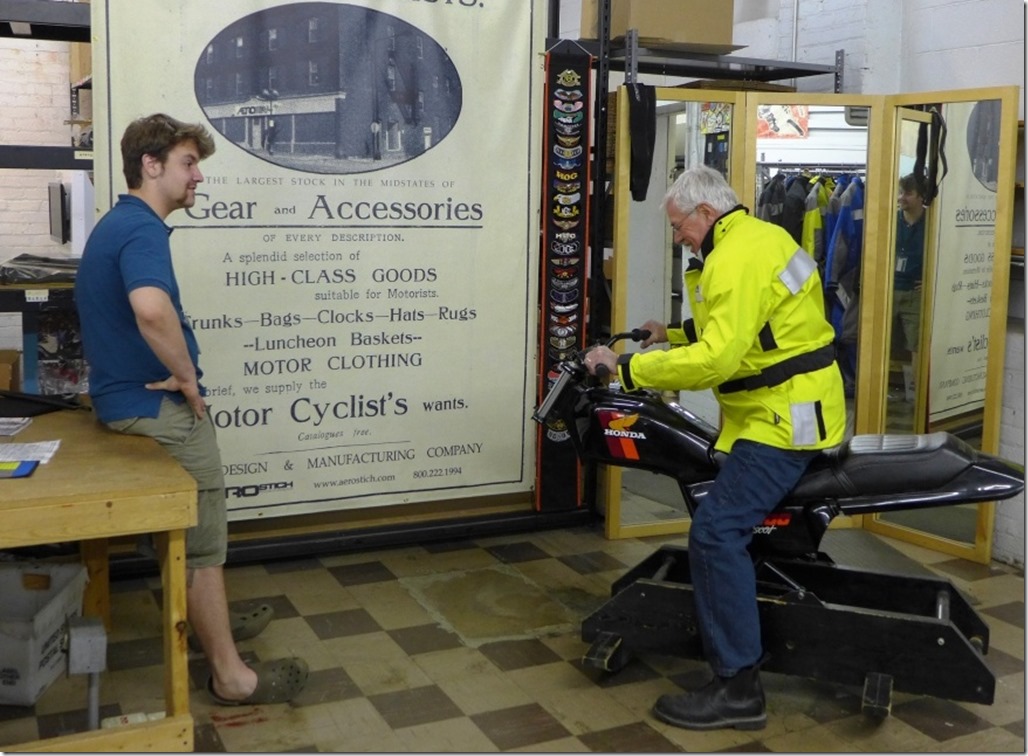 We stopped in at Aerostitch headquarters in Duluth to check out their suits and riding gear. Aerostitch has a cult following among long distance riders, particularly BMW riders, for their one piece Roadcrafter riding suits that are made right there and are known for the protection they provide. Aerostitch is legendary for the service they provide, including repairing suits that have been damaged from wear and tear or accidents.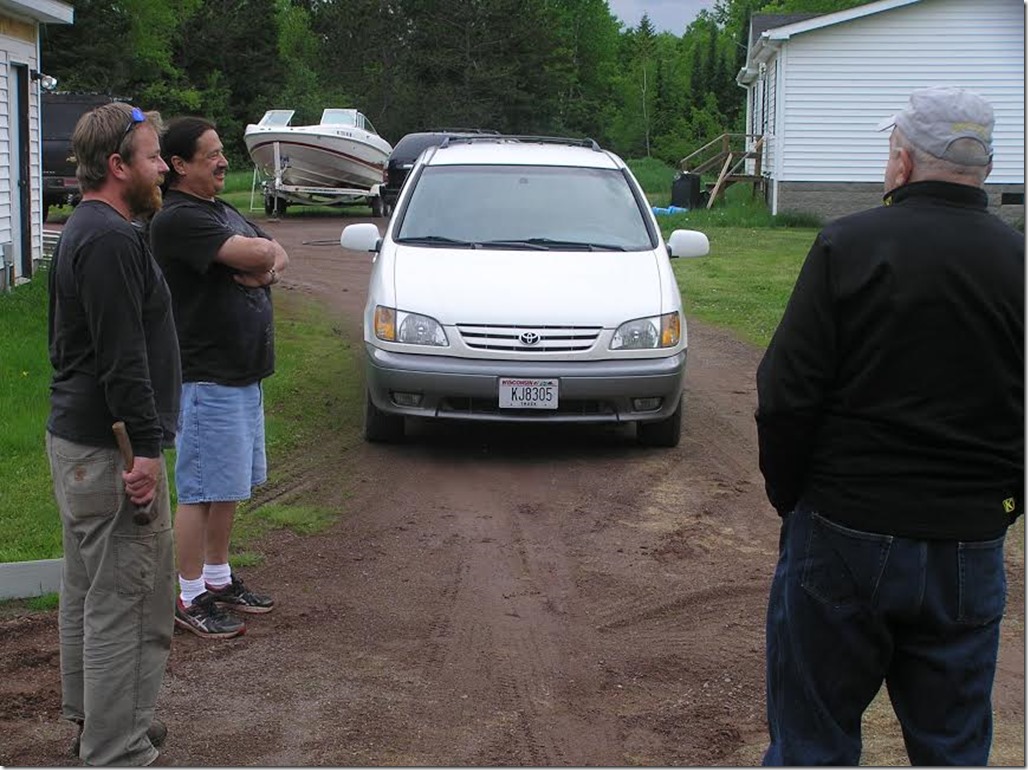 We stayed the night in Ashland, Wisconsin, where we had dinner with Dan's son Justin. Here we are at a construction site where Justin (on the left) is building a garage on the Bad River Indian Reservation for a member of the Chippewa Band.