Monday, June 3
     Woodstock, NB to Matane, QC


     268 miles; mostly cloudy; upper 60s to lower 70

s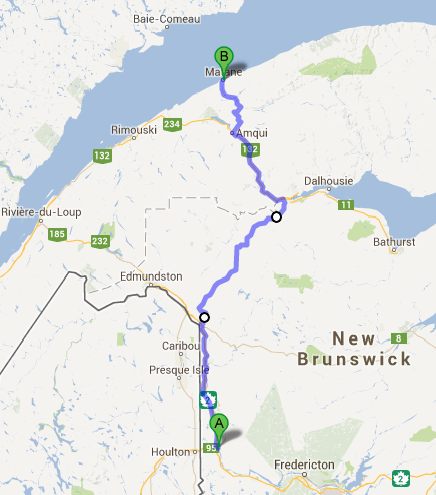 Today's ride was very pleasant compared to the heat and hot sun we had yesterday. From Woodstock north to Grand Falls we had four lane divided highway and then two-lane paved road up to Matane in Quebec Province.
Route 132 north of Campbellton follows the Matane River much of the way, and from 132 we took route 195 north to Matane. These routes traverse the western end of the Gaspe Peninsula, one of the most beautiful rides in North America.
We are spending the night in Matane prior to boarding the ferry tomorrow at 8am for Godbout on the north shore of the St. Lawrence River. Our motel here is right on the water's edge with a beautiful view of the St. Lawrence and the ferry that will be taking us across tomorrow.
We need to turn in early tonight so we can get down to the ferry by 7:15 tomorrow morning to board the ferry. I'm a little psyched this evening because in my mind the "real ride" begins tomorrow  when we get on route 389 north of Baie-Comeau headed to Manijc 5, and then Labrador City, and the official start of the Trans-Lab Highway.