Sunday, May 25
     Cleveland, OH to Ann Arbor, MI
     180 miles, sunny with strong side winds, temps in 80's
The trip to Ann Arbor went well. Dan and I met at the home of our cousin Philip Gingerich, his wife Holly Smith and their two sons. I arrived at around 3:30 and Dan showed up soon after.
We spent a lot of time talking with Philip about our Gingerich family history, going back to the 16th century. Our ancestors were Swiss Anabaptists who later moved to southern Germany to avoid persecution, and from there emigrated to Pennsylvania in the mid 19th century.
The Mennonite colonists Dan worked with in Bolivia, who we will be visiting during our trip to South America next year, came from the Dutch Anabaptist tradition. They emigrated to the Ukraine where they later became refugees during the Russian Revolution and left for Paraguay. We will be visiting some of those folks later this week – more on that later.
Monday, May 26
     Ann Arbor to Batchawana, ON
     376 miles, sunny with strong winds, temps in the 70's 80's
After a leisurely breakfast, with just the right mix of Cheerios, Corn Chex and Red Mill Museli, Dan and I left around 9:30 am for parts north.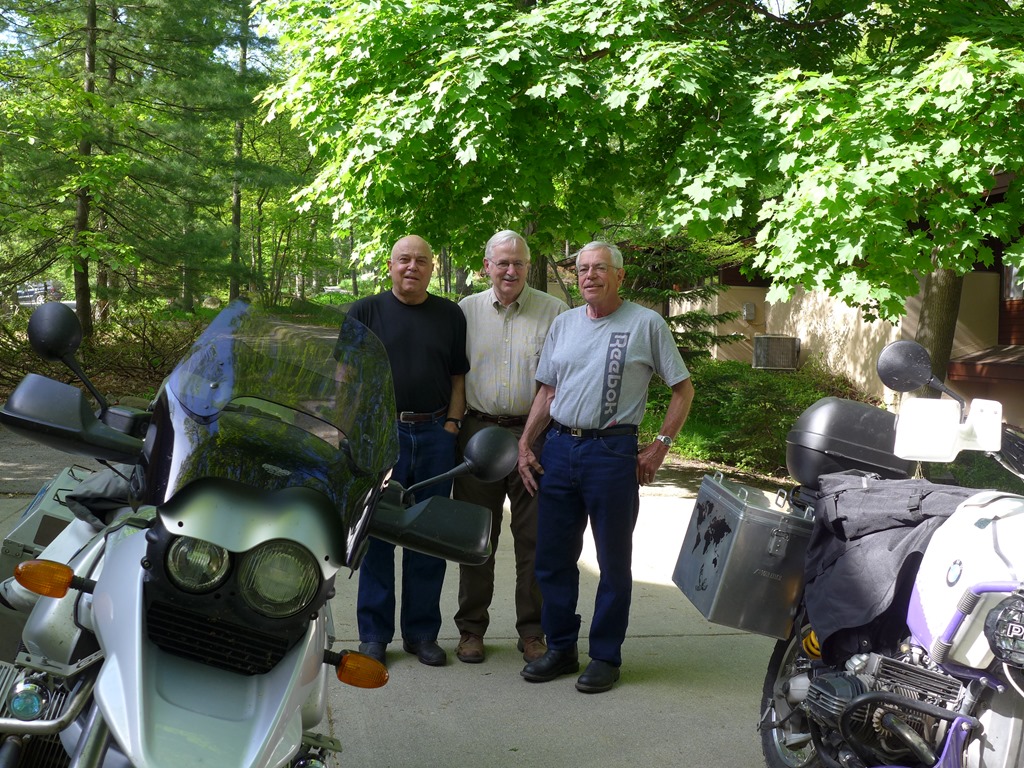 That is Philip in the middle and Dan on the right.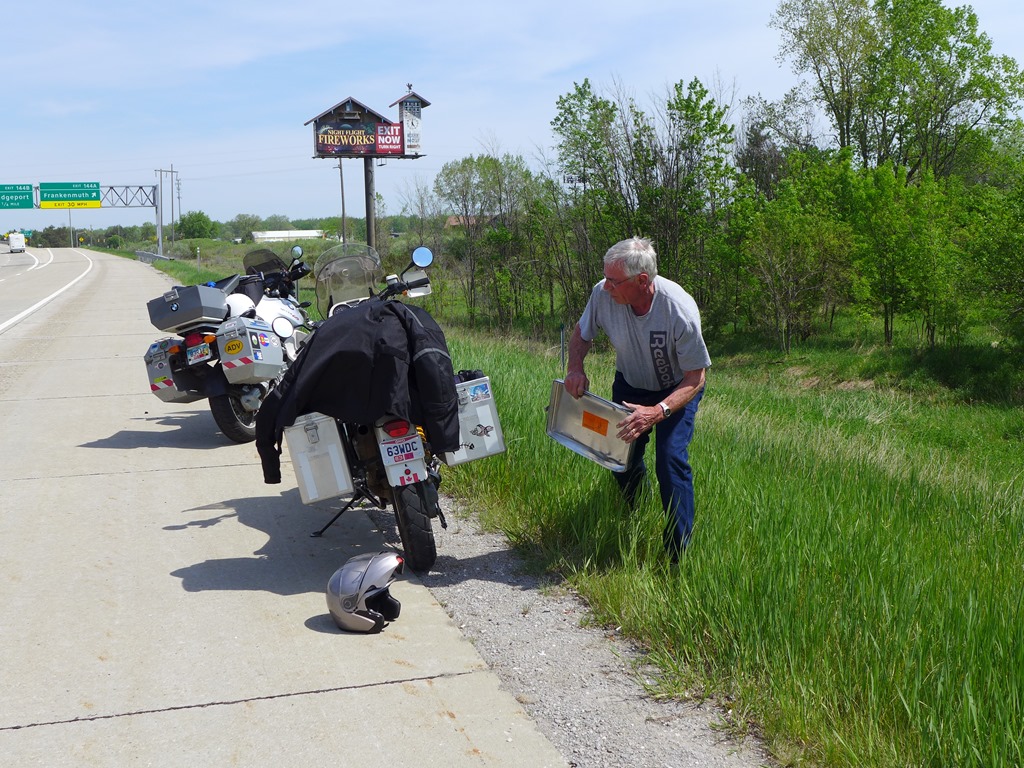 We hadn't made it too far up I-75 when the lid flew off one of Dan's side cases and got run over by a car. I stopped and went back to retrieve it and Dan had to figure out how to get it back on the case. A couple of straps I was carrying did the trick. First casualty.
We made it to Batchawana, a few miles north of Sault Ste. Maria, Ontario, by 7:30 pm and called it a day. We stayed at the Voyageur's Motel and Restaurant, a great spot, where we -feasted on Whitefish and Lake Trout that had been pulled from Lake Superior just across the road. By the time we got back to the room it was too late to shower or update the blog.
Tuesday, May 27
     Batchawana, ON to Thunder Bay, ON
     398 miles, sunny , temps in the upper 50's  to low 70's

We got a better start on the day today – we were on the road by 8:30 am. Just two hours later we were stopped for repair of a washout on the highway, but after a half hour were able to make it through. We found out later the highway (Trans-Canada Highway Route 17) was closed at noon for up to two days to complete the repair. Had we been just a couple of hours later we would have had to make a major adjustment to our plans since 17 was the only highway through this part of Ontario.
A little later on in the morning we were cruising along when I noticed that Dan was no longer behind. I turned around to see what was up and found him a mile back in front of a black car with flashing red lights. Once Dan got his official certification of speed we got on our way again, this time content to fall in line with the local traffic.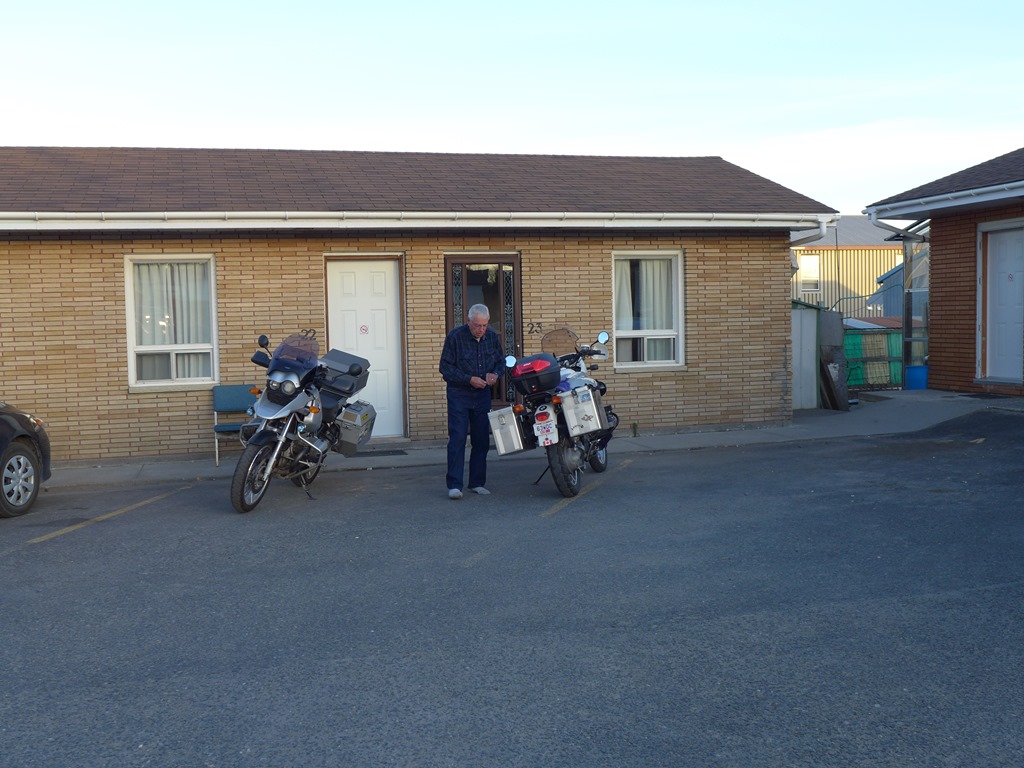 Today was even longer than yesterday – we finally found the Lake Head Motel in Thunder Bay at 9 pm and called it a day. A couple of G&Ts and I was able to update the blog.
Tomorrow we ride to Plum Coulee, Manitoba to spend the night with Dan's friends from Bolivia.