Monday, September 3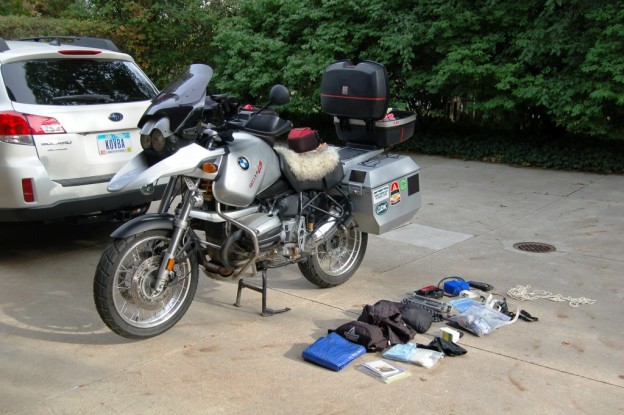 I did most of the packing Sunday evening. Bike gear went in the left bag, clothing in the right bag, and tech stuff and misc in the top box. My packing list gets bigger each trip!
The ride today was 500 miles, all divided highway. I didn't expect it to be very interesting, and it wasn't. It was sunny and hot, with the temps in the low 90's. Traffic southbound into Toronto was stop and go for miles and miles. I was glad I was going north!
The high point was a leisurely break at a rest stop watching families of all kinds make their way in and out of the rest area. I've never taken the time to do that in a car – wonder why. It was 6 pm when I got to my motel in North Bay, and I was tired.
Tuesday, September 4
At 8 am it was overcast and in the upper 60's – ideal motorcycling conditions for me. Much better than hot, humid days like yesterday.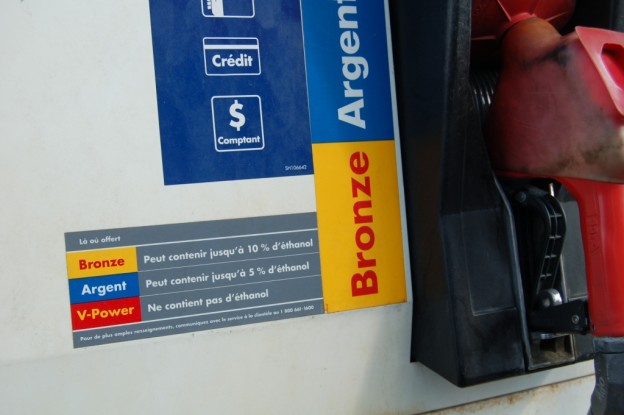 I filled up with gas in Rouyn-Noranda and much to my delight I found the Shell station sells 91 octane pure gas! None of that 10% ethanol crap we get in the states — the stuff that can wreak havoc with your fuel system and gives you 4% less energy and mileage. Bill Clinton is one of my heroes, but he got it wrong on the ethanol thing. Motorcycles are set to run lean, and E10 gas make them run even leaner causing all kinds of running problems. The pure, high octane gas made the GS smile. Thanks Shell!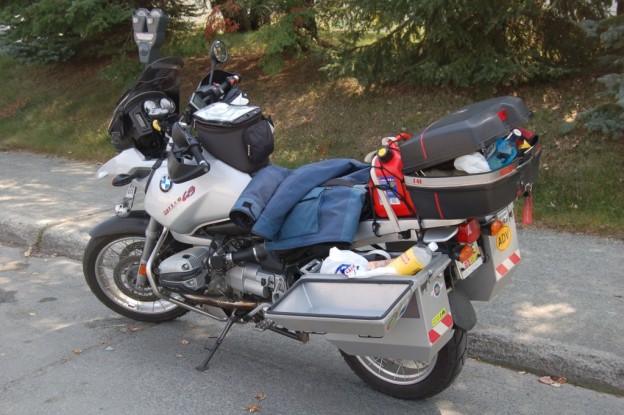 After buying a gas can this morning at Canadian Tire, I filled it up for the trip tomorrow which has a 250 mile stretch without gas. While I was at it I also loaded up on "fuel" for the rider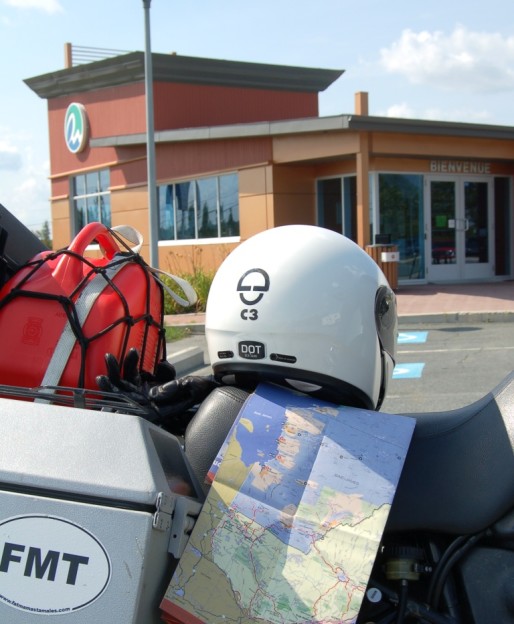 Just as I left Amos headed for Matagamie I passed a Quebec tourist information center. They gave me a detailed map of the James Bay road, something I was unable to find on the Internet from home. I guess there isn't much demand for maps of North Quebec except for up here.
Although the temps were in the 60's in this morning, they got up into the upper 80's by mid-afternoon. Not quite as hot as yesterday, thankfully. Today the road was all 2-lane and quite scenic, with frequent stops for road construction. The ride today reminded me a lot of my ride in northern BC, Yukon and Alaska a few years ago. It is amazing how much more I feel a part of my surroundings when riding 2-lane roads. I kept an eye out for moose (many signs) and bear, but didn't see any – yet.
It wasn't more than 15 minutes after the previous picture that I ran into a localized downpour complete with hail. Boy does that stuff sting when it hits you going 60 mph! I found one of those domed salt storage buildings beside the road and pulled in to wait it out. In another 15 minutes it was over, and a couple miles further along the road was dry. A local Cree family had also pulled into the salt shed to get the suitcases in the back of their pick-up out of the weather. We had an interesting conversation – they were from the Waskaganish settlement at the very lower tip of James Bay.
I'm eager for the day tomorrow when I ride up to Radisson and Chisasibi, the end of the paved road…