Saturday
, May 29:  Blanc-Sablon, QC – Exploring Labrador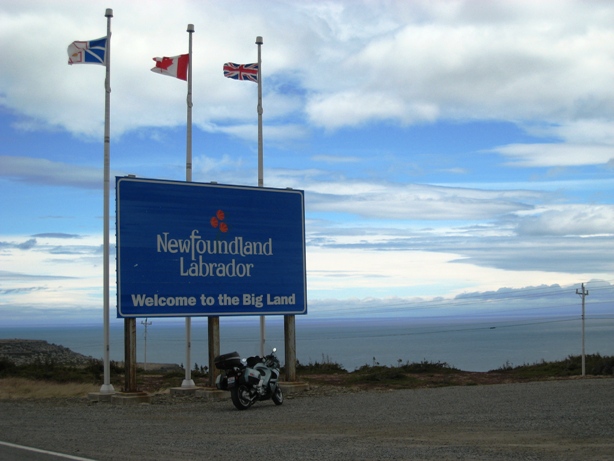 For some time now I have wanted to visit Labrador,  probably because it is somewhat off the beaten path, little-known, and less settled and developed than most other parts of North America. Until last fall, the only way to get to eastern Labrador was by boat or airplane. The Trans-Labrador highway was completed last fall, however, making it possible to reach this area by car. More on that later…
As we rode north along 510 I was struck by the rugged beauty of the coastline and the icebergs that were now a common sight – I saw six at one time! Along the coastline the temps were generally in the 50's, but occasionally dropped into the 40's.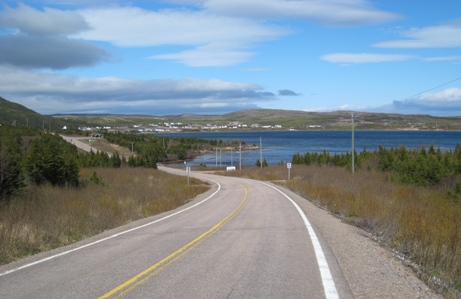 This is a typical scene as one approaches the small communities along the eastern shore. Population of these towns is usually around several hundred.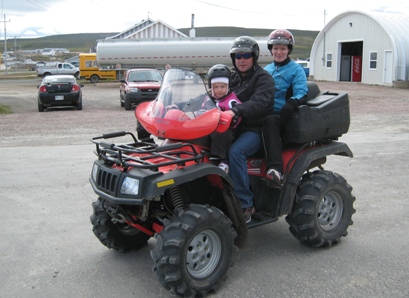 While stopped at one of the little towns I met this young family that had "quad-ed" to town on one of the off-road trails along the shore. They seemed to be enjoying the beautiful day. I saw many, many quads in Labrador, and almost no motorcycles.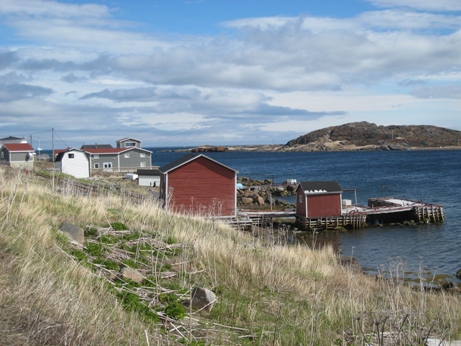 This is village of Red Bay, about 30 miles north of Blanc Sablon. This was once an important whaling community, but no longer, of course. There is a government run interpretive center here that explains all that, but it was closed. Tourist season doesn't officially begin until June 1.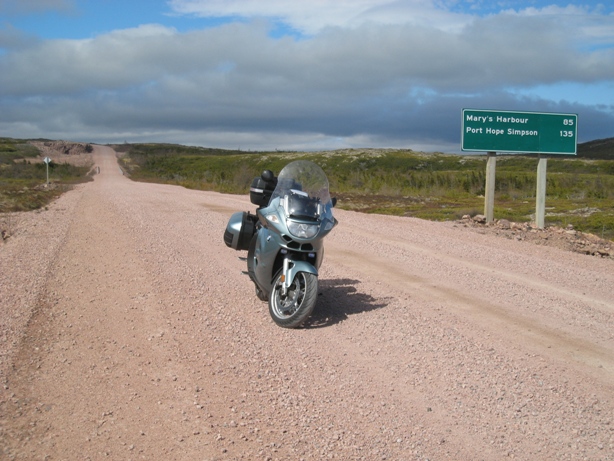 Red Bay is the end of the paved road in this part of Labrador – all 30 miles of it! This photo shows the eastern terminus of the un-paved Trans-Labrador highway that runs all the way across the middle of Labrador and down to Baie-Comeau, QC. The road was completed late last fall. I have wanted to ride this road for my next "adventure trip" but am reconsidering. Local folks I talked with described it as so soft it was impassable earlier this spring, with large pot holes in places and mud several inches deep in other sections, and very dusty with sharp gravel that is hard on tires.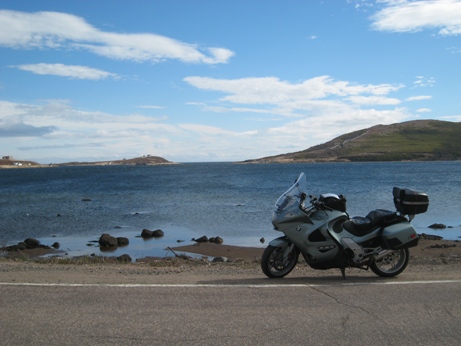 This part of the world is interesting in many ways. Some of the small towns are in Quebec province, and others in Labrador. Labrador time is 1.5 hours ahead of Quebec, which is the Eastern time zone. On the Quebec side most people speak French, on the Newfoundland side they speak English, albeit with a thick accent that was difficult for me to understand. Icebergs are a part of the psyche here – you see photos and paintings of them in the restaurants just as you see paintings of beaches and sunshine in Florida.
Sunday
, May 30:  Blanc-Sablon, QC to St. Anthony, NL
This morning we took the ferry from Blanc-Sablon across the Straight of Belle  Isle to St. Barbe, NL. We almost missed the boat because of the odd time change!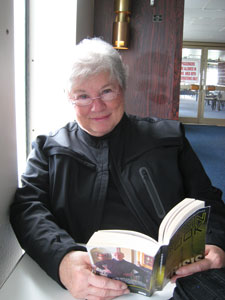 While on the boat Elaine insisted I take a photo of her when her hair is good – wearing the helmet reportedly does bad things to it.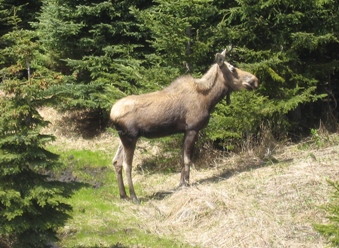 We finally saw a moose along the side of the road. This was a cow, with her calf in the shadows. I expect we'll see more. Moose cause many traffic fatalities, particularly at night, when they are very difficult to see. Because of their size they do much more damage than deer.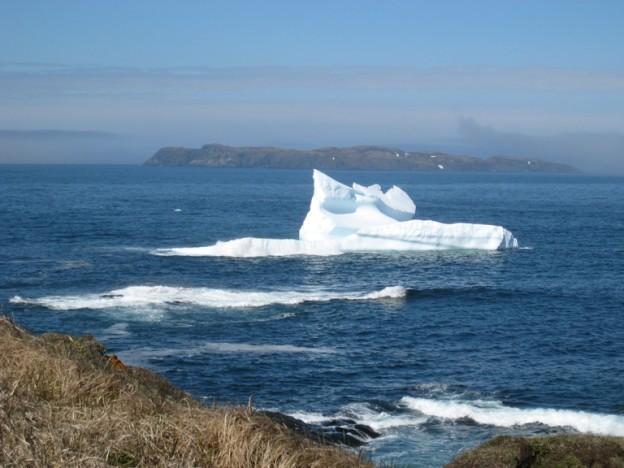 Elaine was tired of riding and wanted to hang out in the B&B this afternoon, so I rode north to Ship Cove at the northern tip of Labrador and just across the bay from the Viking settlement. This area is called "iceberg alley," for obvious reasons! I saw several – this one was not too large but close to shore. A large one was further off shore.
You don't need to go outside in Newfoundland to know you are in iceberg country. Here is a bottle of Iceberg gin, bottled in NL, and a bottle of water taken from icebergs here in the St. Anthony area. Both taste pretty good – no surprise here!
Tomorrow we will ride up to L'Anse aux Meadows where the Vikings landed some 1000 years ago, the first Europeans to set foot in North America.
The K12GT as a touring bike
This is the first time I have toured with the K1200GT loaded 2-up, and I was eager to see how it would do. I am mostly happy with it. The Russell Day-Long custom seat makes all-day riding painless. The Aeroflow screen provides very good wind protection. The bike has plenty of power, the suspension (Hyper-Pro) is well-controlled, the heated grips and seat are toasty on the cold days, and the cruise-control is great for the open road. When I get home I simply take off the bags, put the Corbin seat back on and a smaller windscreen, and I'm ready for more spirited sport riding. All in all, it's a nice compromise.