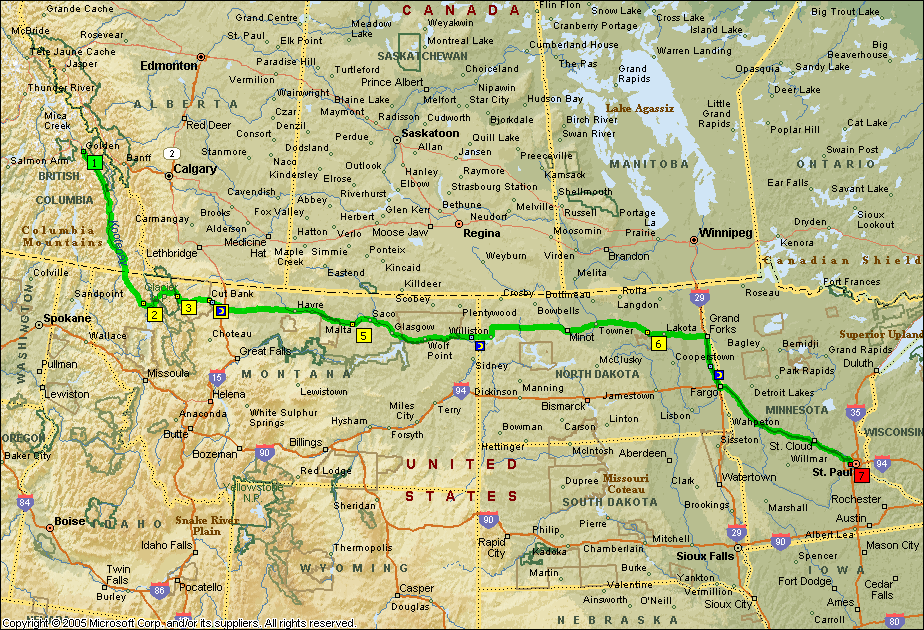 After riding the Going to the Sun Highway through Montana's Glacier National Park I took U.S. 2 across Montana and North Dakota, then interstates down to Minneapolis.
Day 37 – Saturday, July 7 – Bolder, British Columbia, to Cut Bank, Montana
I got on the road at 5:50 a.m. this morning to try to avoid the worst of the heat. It was in mid 60's, and very pleasant, even a bit chilly. I had the road to myself and enjoyed watching the play of light as the sun rose, illuminating the taller ranges first, then the lower ones. Once the sun got high enough to see it directly I could feel the air warm up rapidly.
I saw quite a few of these signs, and it kept me on my toes knowing that early morning is one of the prime times for deer to move about. Fortunately, I didn't see any.
This billboard caught my attention. I had to turn around and go back to look at it again. It got me thinking – how could you possibly forget to get out of the car?  Only if you are so focused on what is happening inside the car (like listening to Sirius satellite radio) might your arrival at your destination go unnoticed. In the cocoon of a car you don't feel the temperatures outside, you don't hear the sounds, don't feel the wind, don't smell the smells. You don't even feel the road very much. On the bike it's not like that. You are very aware of your surroundings – one of the most enjoyable aspects of biking – and it is inconceivable that you would forget that you're riding.
I crossed the border into the U.S. at the Roosville Port of Entry and had breakfast at Eureka. The first town of any size was Whitefish, an upscale tourist town that serves as a gateway to Glacier Park and a large recreational area. The first things to hit me after returning to the U.S. were interesting: I hadn't seen more than a couple antique stores and quilt shops in Canada, but there were many here. Breakfast cost $8 instead of $12. My motel tonight cost $60 instead of $100. Class A motor homes, Escalades, and SUV's replaced the pickups that dominated the roads in Canada and Alaska. In Alaska probably half of all the bikes I saw were BMW GS's (dual sport/off road bikes). Here I couldn't believe the number of Honda Goldwings and Harley full dressers – many of them towing trailers, some with ice chests strapped on top. No doubt it is influenced partly the roads and wide open spaces, but I also think it reflects a somewhat different world view. The Canadians I met, and the Alaskans in particular, seem to have more of a "roughing it" and adventuresome spirit.
When I was a kid and we took our annual family vacations "out west" dad would always seek out the dams. Many of them were being built during the 40's and 50's so they were big news at the time. This is the Hungry Horse dam, on the way up to Glacier National Park. It was one of the tallest dams at the time it was built and is still an impressive sight.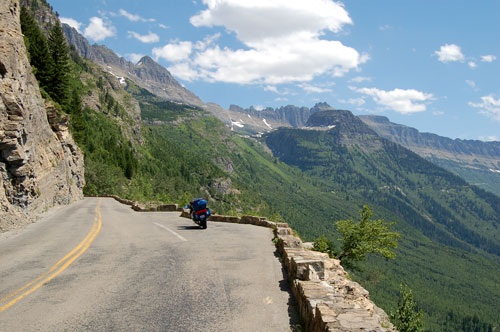 By early afternoon I had made it to Glacier National Park and the Going to the Sun Highway. The highway was completed in 1933, a major engineering feat at the time. Much of the original road remains – narrow lanes, often with no guard rails. The drop offs are nearly vertical in places, and up to 1000 feet down. A section of the road collapsed during the past winter requiring installation of a temporary bridge at one point. The road was newly re-opened to traffic July 1 this year. Needless to say, it was a very dramatic drive.
Once over Logan Pass (elev. 6646 feet) and going down the east slope the terrain changed rapidly. The craggy mountains gave way to foot hills, that became the high prairie of north central Montana. The temperatures on the east slope were in the mid-70's, in contrast to the 80's and 90's on the west slope. I particularly enjoyed riding U.S. 89 from St. Mary to Kiowa.
I got to my room in Cut Bank just before 5 p.m. Once settled in the room I had a gin and tonic – I usually have one before my shower and one after. But tonight I had 2 (or was it 3) before my shower – I lost track. You can see I have traded my traditional "farmer's tan" for a "biker's tan."  My cheeks, nose and upper lip get lots of sun whereas the rest of my face is protected by my helmet. I don't find a "biker's tan" particularly becoming, but I guess it's part of the experience.
Tomorrow I will take U.S. 2 across Montana, and Monday across North Dakota to Great Falls. At that point I'll take interstates down to Minneapolis. I'm looking forward to riding U.S. 2 – the northern most U.S. highway and originally commissioned in 1926.
Day 38 – Sunday, July 8 – Cut Bank, MT to Wolf Point, MT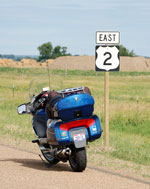 Today was one of the most enjoyable rides of my trip! I rode U. S. Route 2 across Montana from Cut Bank to Wolf Point. Originally commissioned in 1926 U.S. 2 is the northern most U.S. highway. I had the road mostly to myself in the morning. Temps were in the upper 60's, it was overcast, and the light on the fields and hillsides was beautiful.
Northern Montana is wide open country. There are very few farmsteads or houses, or buildings of any kind. I felt a sense of peacefulness and exhilaration as I rode across this expansive and beautiful part of our country.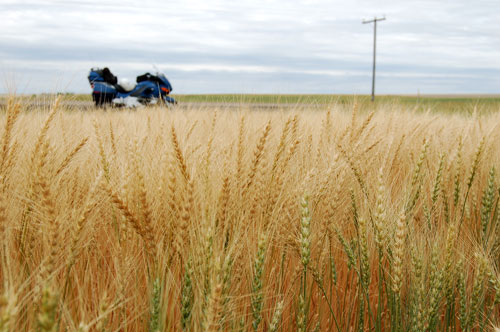 There is some farming in the area, mostly wheat in the western section, but more hay in the eastern section.
I found these elevators an interesting contrast. The older one, in the foreground, has fallen into disuse and disrepair. It's been replaced by the newer and larger one in the background. (This photo makes them appear to be the same size, but the new one was actually much larger.)
The Burlington Northern Santa Fe railroad parallels Route 2 all the way across Montana. Seeing this train reminded me again of my family's summer trips out west when we drove Route 30 across Nebraska. We were cruising along about 70 mph in our 1951 chartreuse Pontiac one day when we pulled along side a steam engine pulling a long freight train. Through hand signals my brothers and I struck up a conversation with the engineer who would blow the whistle when we motioned him to do so. When we asked him to make the train go faster you could see the wheels of the big locomotive spin. It was an exciting moment!
The open road in the American West that disappears into the horizon always gives me butterflies in my stomach.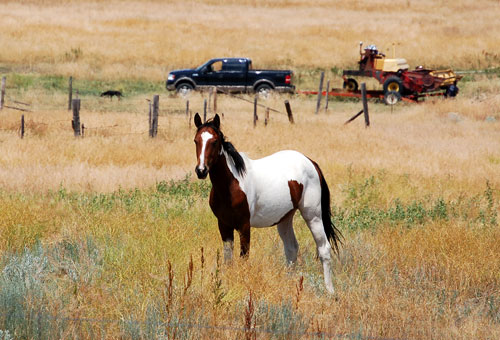 Occasionally I would see horses, although I didn't see any cowboys saddled up. I found this horse particularly photogenic. The "cowboy" in the rear is moving his mower to another field.
I had the good fortune to meet Ken and Jen from northeastern Michigan this evening at my motel in Wolf Point. They are riding R1200C out to Glacier Park and back home. We shared travel stories and bike stories. Jim's bike is a classic and in immaculate condition. I may see them next week at the rally in West Bend.
Day 39 – Monday, July 9 – Wolf Point, MT to Devil's Lake, ND
After checking into my room last night I noticed these guys on the bathroom floor, and I became a little worried. I was relieved to wake up this morning, knowing I had escaped the fate that befell these guys.
Almost all of Route 2 in North Dakota is 4-lane divided highway. It's amazing how much less of the surroundings you take in on a 4-lane as compared to an old 2-lane road like Route 2 that I rode across Montana yesterday. I did notice several large fields of pretty blue flowered plants. I'm not sure what they were, but their color was striking.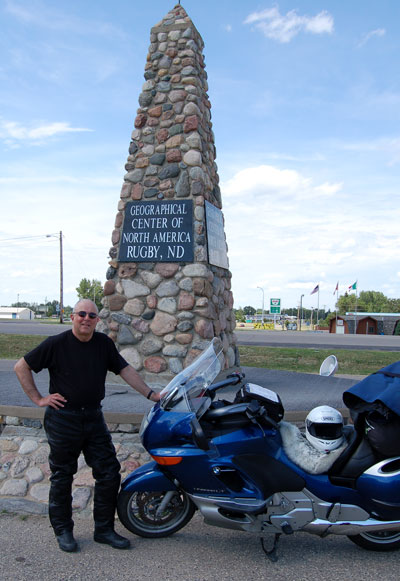 Rugby, in north central North Dakota, claims to be the geographical center of North America.  It may be, but I don't know how you would go about determining that. Since I visited the eastern most point on the North American continent last summer, and the western most point accessible by highway earlier on this trip, I thought it fitting that I should also visit the middle of the continent.
Another BMW rider pulled in shortly after I did. It was David, from the United Kingdom. He shipped his R1150GS to New York, rode to the southern tip of South America, then to the Arctic Circle, and is now on his way back to New York. In all he has ridden over 24,000 miles on this trip. We had a great chat about bikes, trips, cameras, etc., and then we were off on our separate ways.
Tonight is the last night I expect to be in a motel on this trip – I'll be staying with family and friends and camping at the BMWMOA rally the remainder. So it was only fitting I suppose that the gin ran out.
Day 40 & 41 – Tuesday & Wednesday, July 10 & 11 – Minneapolis
Today I rode to Minneapolis to stay with Chris and Maria and Emmet and Claire until Thursday morning when I will ride down to West Bend, Wisconsin, for the BMW Motorcycle Owners of America national rally.
Last night we had a bit a rain and wind storm, which soaked my butt pad, by the way. This morning it was overcast and cool with a strong tail wind – 30 mph I would guess. I got great gas mileage! Here you can see I tied my butt pad to luggage rack to dry it out, and it worked like a charm!
The road map indicated that the tallest structure in the world – the transmission tower for KVLY-TV – was just 10 miles off the road, so I had to go over to have a look. It reaches 2,063 feet into the sky and is guyed by 9 guy wires, three of which are visible in this photo. It was hard to appreciate the height of the tower since there were no other structures nearby to compare it with. However, when you consider that the Sears Tower in Chicago is 1,450 feet high you begin to get an idea of how tall the tower really is. It was surpassed for a few years by another TV tower in Poland, but that one collapsed in 1991. I'm curious why few people, including many who live in North Dakota, seem not to be not aware of this tower.
Even standing at the foot of the tower it was hard to really realize the immensity of the tower. Each of three legs are approximately 6 inches in diameter – they felt solid but I couldn't be sure. The tower includes a little elevator big enough to carry one person to the top for service and maintenance.