After working full-time in academia for the past 32 years I decided to take the summer off in 2007 and take a six-week solo motorcycle trip to Alaska. It was the experience of a lifetime. These pages describe the planning and preparations I made for the trip and include a detailed, illustrated trip log.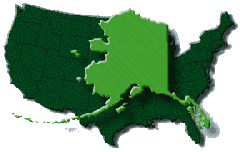 Alaska is a big place – over twice the size of Texas and one-fifth the size of the entire lower 48 states! It is America's last frontier, with many areas of pristine and undeveloped wilderness. Wildlife is abundant, as are glaciers, mosquitoes, magnificent mountain views, and friendly people. It is also a long way from home – nearly 5,000 miles to be exact – so it made for a great destination for a trip to "get away from it all."
I took the direct route on my way up to Alaska. To avoid Chicago traffic I took the Lake Express ferry across Lake Michigan. After a stopover with friends in Milwaukee I spent several days in Minneapolis with Chris and Maria and Emmet and Claire. Then I got on my way to Alaska, driving across N. Dakota and Montana to Grand Falls, MT. From there I headed north up through the Canadian parks to Dawson Creek, British Columbia, the beginning of the Alaska Highway. I took the Alaska Highway up through the Yukon to Tok, Alaska, then southwest to Anchorage where I meet Paul and Linda Wilson who had ridden up from Maine.
From Anchorage I rode down to Homer on the Kenai Peninsula for an overnight, then back up to Girdwood to visit my friend and colleague Beth Sirles. From there it was up to Talkeetna and Denali National Park, then to Fairbanks and up to the Arctic Circle on the Dalton Highway. Back to Fairbanks, down to the Denali Highway for a short ride, and then on down to Valdez. From Valdez I rode up to Tok again and took the Top of the World Highway east to Dawson City, Yukon, then rode south to Skagway.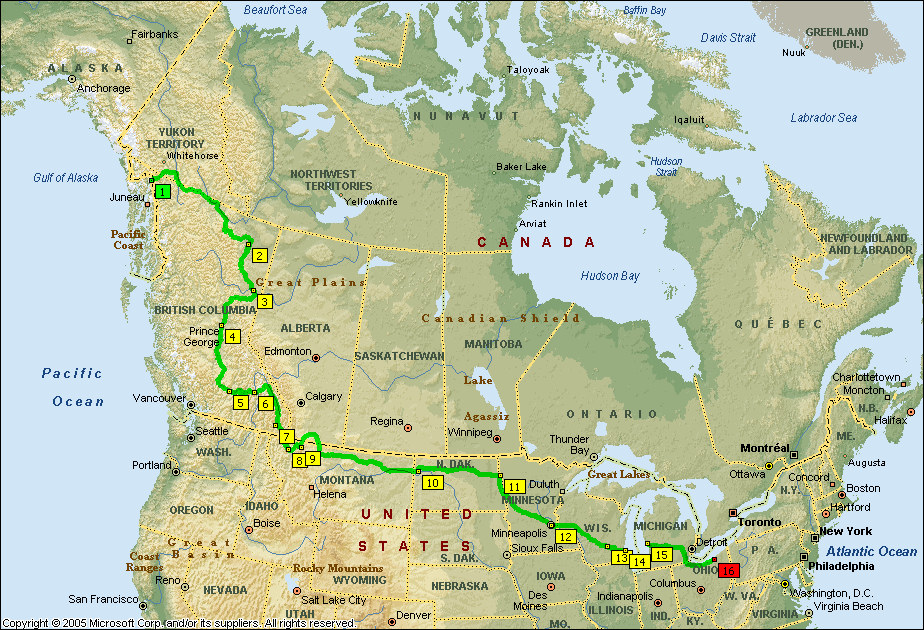 I took the Alaska Highway on the way back (deciding the Cassiar was too iffy for the LT), but from there took a more western route on the west side of the Canadian Rockies to Kamloops and then east to Glacier Park in Canada. Then south to Glacier National Park in Montana, and east via U.S. 2, a great road across northern Montana and North Dakota. A stop in Minneapolis, then down to West Bend, Wisconsin for the national BMW Rally, and on home taking the Lake Express again across Lake Michigan.