Thursday, May 29
     Plum Coulee, MB to Ponton Junction, MB
     444 miles, overcast, temps in the 50's and 60's
It was a cool morning as we left Plum Coulee and rode north on highways 3 and 13. All of southern Manitoba is flat, and most of the roads are straight, straight, straight. It makes for boring riding if you don't pay attention to what is going on in the adjoining fields or notice the type of construction used in the towers for the high voltage lines.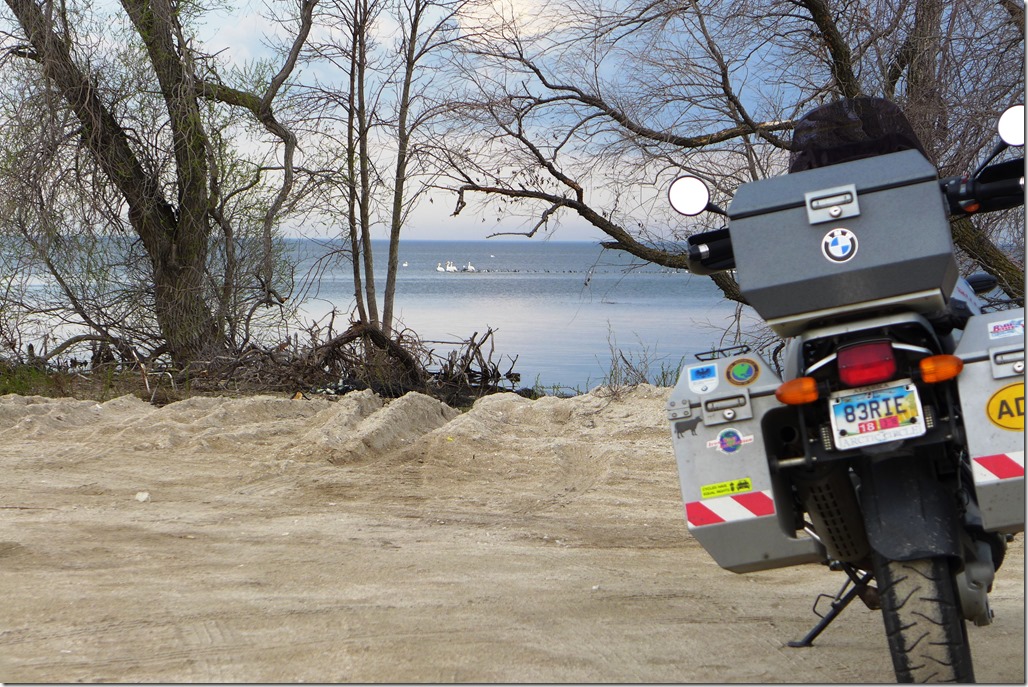 We continued directly north on 430, a small road which led to the shore of Lake Manitoba. This is one of the larger lakes in Manitoba, but by no means the largest. We learned on the trip that Manitoba has 100,000 lakes, many of them teaming with Walleyes.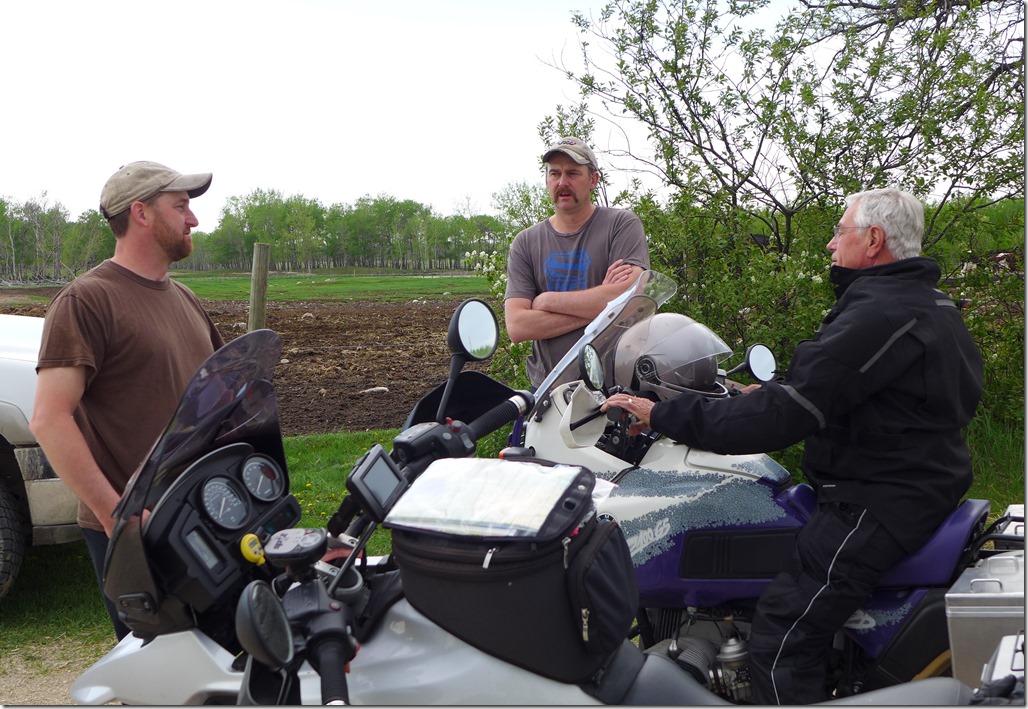 From Lake Manitoba we headed east on route 411 and stopped along the way to chat with several dairy farmers. It turns out they were Mennonites – Eric and David Voth. Another unexpected Mennonite connection on this trip.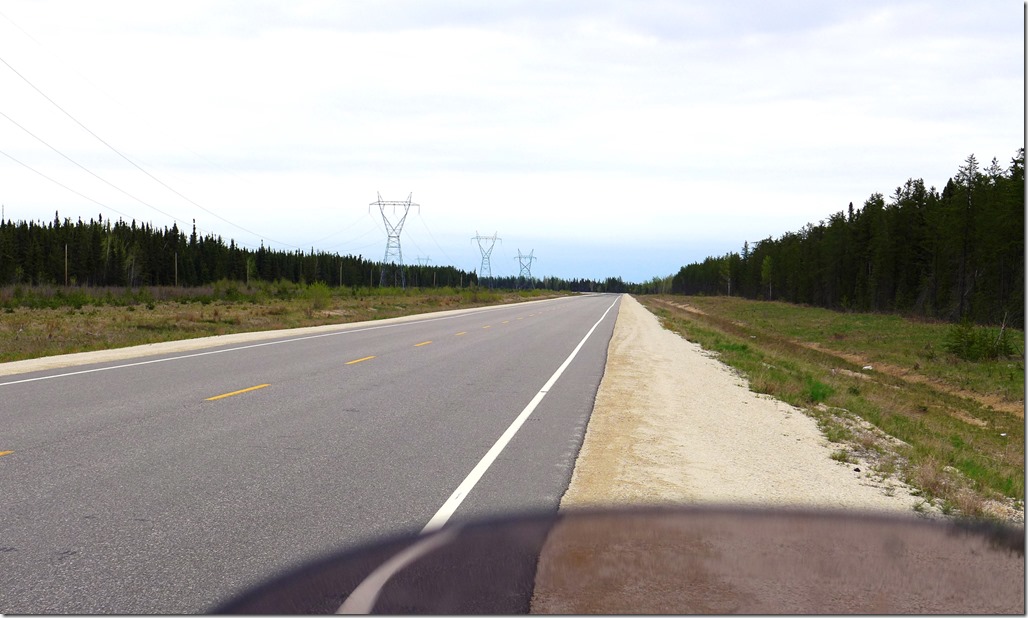 We soon reached Highway 6 and headed north on our way to Thompson. We were only 40 or 50 miles north of Winnipeg and you can see that already we were entering boreal forest. From this point north there is very little farming.
We had planned to spend the night in Grand Rapids but there was only one place to stay and it looked pretty seedy, to tell the truth. Several truckers we spoke to earlier in the day had warned us not to stay in Grand Rapids, so we pushed on and finally stopped here at Ponton Junction around 9 pm. It didn't look great, but it was a place to stop and we didn't feel like riding another 100 miles on up to Thompson.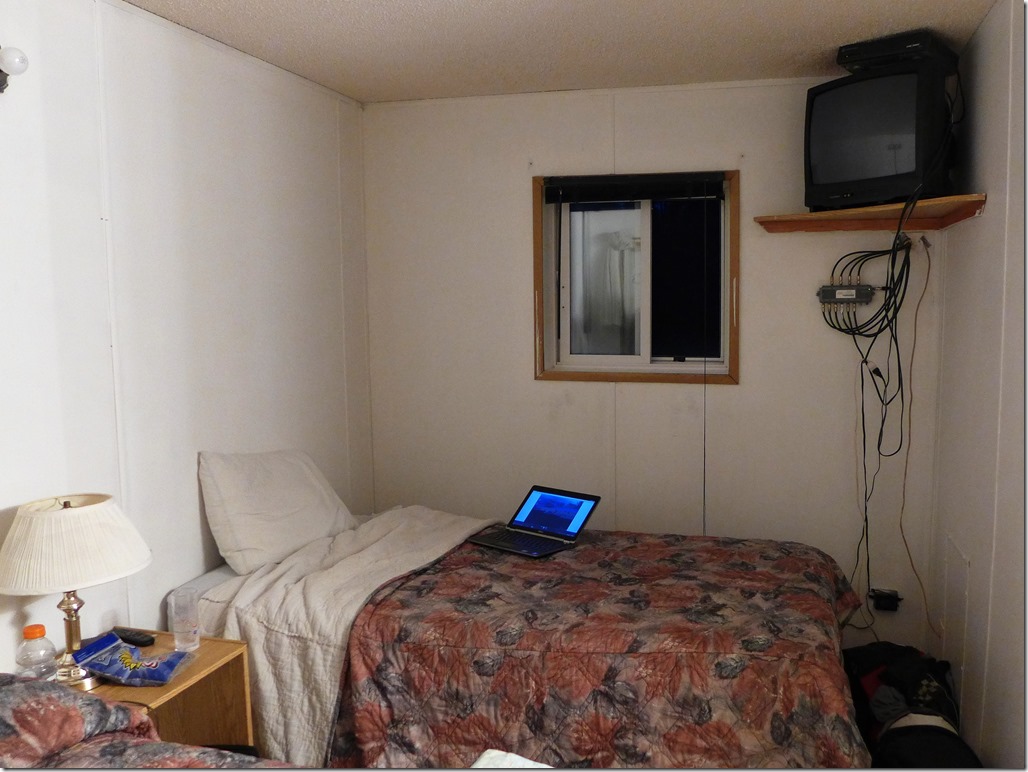 The room was dry (it had started to rain), had two beds and a bath. Our room appeared to be command central of the cable tv system, but we couldn't get any channels because we declined to put down a deposit for the remote. It seemed pretty clear that the motel had a hard time dealing with theft and destruction of property. We learned on our way back through that the place was owned by an aboriginal tribe, had gone broke several years earlier, and a consultant had been working with them for the past several years to help them make a go of it.
Did I say we were tired? This was our fourth consecutive day averaging over 400 miles – too much for a couple of mature riders!