Books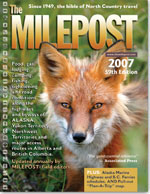 The Milepost is the universally acclaimed tour guide for Alaska and the Alaska Highway. My family had one in 1958 and I have the 2007 edition for this trip. It began as a description of the ALCAN highway, mile by mile (the highway has mileposts along the entire route from Dawson Creek, BC to Fairbanks, AK). Today it includes descriptions of all of the highways in Alaska and the Yukon Territory, and the major routes through Alberta and British Columbia. It also includes many ads for accommodations and things to see.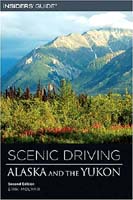 This book, written by Erik Molvar, a wildlife biologist and Alaska resident, describes in detail all of the roads included in the Milepost, providing in addition rich historical background and geological information that brings the environs to life. It gives me a good preview  of what I will be seeing and helps me plan what stops I may want to make. Molvar also recommends side trips along the way, some of which I just may try.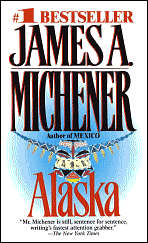 Michener wrote Alaska in 1988. A whopper of a book, and my first Michener. Its a fictionalized historical account of the earliest evolutionary development of Alaska, the introduction of animal and human life, conquests by the Russians and Americans, the Gold Rush, and many other topics. I found his description of the Gold Rush particularly interesting, especially the challenges presented by the Chilkoot Pass, the 30 mile route from Skagway to the lakes and rivers that would eventually take prospectors to Dawson City far up in the Yukon. Prospectors had to carry enough provisions to last them a year, and the Pass was so steep and difficult that the most they could take in one trip was 35-50 pounds. At 40-50 trips, at 2 trips per day, it would take them a month just to get up and over this section of several thousand feet. I wanted to see the Pass myself, but the only access today is over a 30 mile trail that requires a minimum 3-day rugged hike. Next time perhaps…
Maps
The best large map is the one that comes with the Milepost. It shows the entire route from southern Alberta and British Columbia up through the Yukon and Alaska. Of course it doesn't have a lot of detail, but it gives you the large picture and allows you to see the relative distances, etc. It also shows the topography
I also ordered maps of Alaska, Saskatchewan & Alberta, and British Columbia from MapArt, the Canadian company. They provide more detail, including the major cities. I like detailed maps when I'm riding.
To plan my trip, mileages, etc., I will use Garmin's City Navigator North America v.8 and Microsoft's Streets and Trips, 2006. Streets and Trips is particularly easy to use, and it's the one that I use to produce the maps on my site.Great
Links