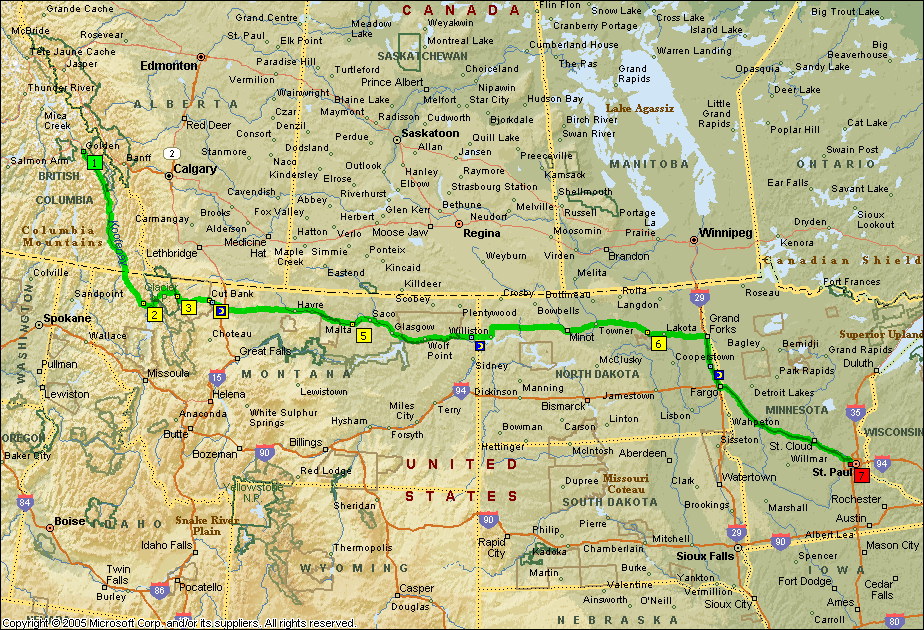 This section of the trip took me from home, Shaker Heights, Ohio, to Canmore, Alberta, just outside Banff National Park.
Day 1 – Friday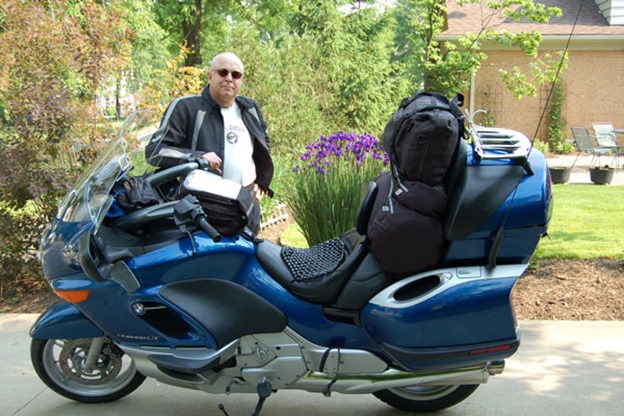 I left home at 10 a.m., two hours later than I had planned, but what else is new… I took Interstates all the way through Toledo, Ann Arbor, Lansing, and Grand Rapids to Muskegon, Michigan, where I caught the high speed Lake Express ferry across Lake Michigan to Milwaukee. I had dinner with friends in the old third ward, then spent the night with Peter and Mary in their lovely home overlooking Lower Neshotah Lake near Oconomowoc, WI.
Day 2 – Saturday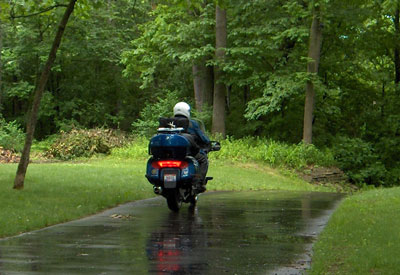 I left Peter and Mary's the next morning without my wallet, which I discovered 20 miles later when I tried to fill up with gas. Luckily, I made it back to to get my wallet and back to the gas station with just fumes left.
I got to Minneapolis to Chris and Maria's, and grandson Emmet and granddaughter Claire. Spent two overnights, repacked my stuff and sent some excess clothes back home. Had a great time playing with little Claire – that's her on my shoulders.
Day 3 – Sunday
Monday morning Emmet came out to sit on the bike with me before I left. I had a great time with Emmet and Claire over the weekend building forts, playing with Tinker Toys, telling stories, and coloring. That will be one of the highlights of my trip.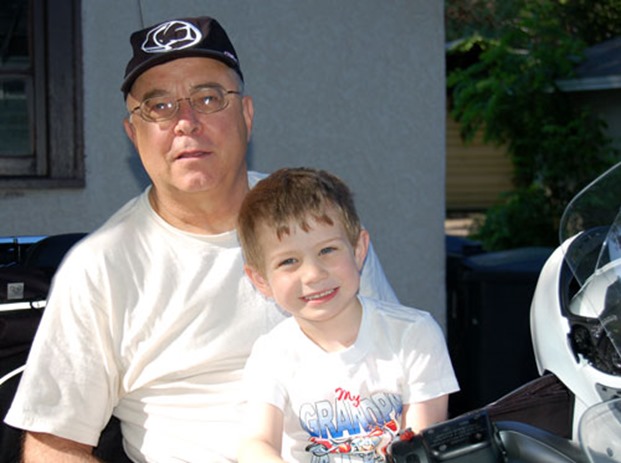 Day 4 – Monday
Today I took Interstate 94 all the way from Minneapolis through Moorhead, MN, Fargo, Bismark and Dickinson, ND, where I spent the night — about 530 miles in all. The speed limit is 75, so the miles rolled by pretty fast. The air was clean and fresh and temps were in the low 70's – perfect for riding. There was a strong wind out of the North at about 25 mph and gusting, which made passing the big trucks a little dicey until I learned what to expect. The bike would lean over 10 -15 degrees until I caught up to the truck, then it become upright while out of the wind passing the truck, then it would list over again as soon as I cleared the truck.
On the left is I-94 just east of Moorhead, MN – not much traffic on the interstate! On the right is a similar photo west of Jamestown in central North Dakota. Spectacular open country – all was well with the world.
Day 5 – Tuesday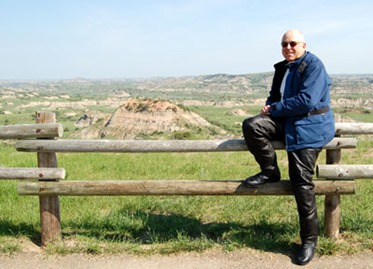 Just a few miles west of Dickinson, and near the Montana boarder, I stopped at the Theodore Roosevelt National Park in the North Dakota Badlands. It was a spectacular sight…
The park ranger was looking for a buffalo that usually hangs around but she couldn't find it, so she loaned her binoculars to this young man to see if he could find it. She explained that the buffalo were disgusted at the commotion caused by road work near the park and were making themselves scarce.
The ride west of the Park was beautiful, like this, for the next 20 miles. The badlands stretch all the way south to the South Dakota badlands. Wind and rain constantly erode the badlands and in another few thousand years they will all be  smoothed out.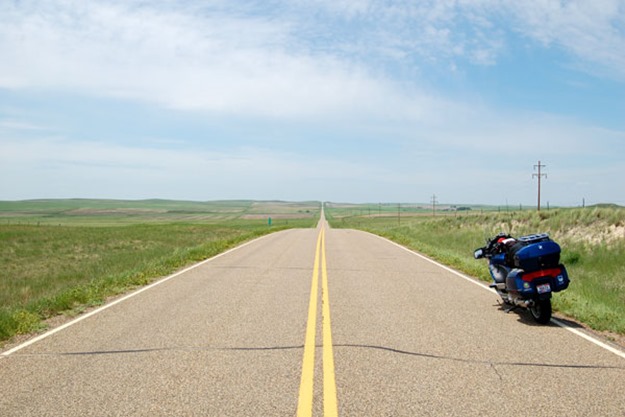 Soon after entering Montana I exited I-94 and took Montana state highway 200 straight west to Grand Falls, where I spent the night. By "straight west" I mean really straight west! I love these roads in the west where the asphalt disappears into the horizon miles ahead. It makes my blood bubble – like champagne.
Day 6 – Wednesday
Much of the ride to Calgary today was in the rain – some of it heavy and accompanied by strong winds. Still, the views of the countryside had a quiet, peaceful beauty…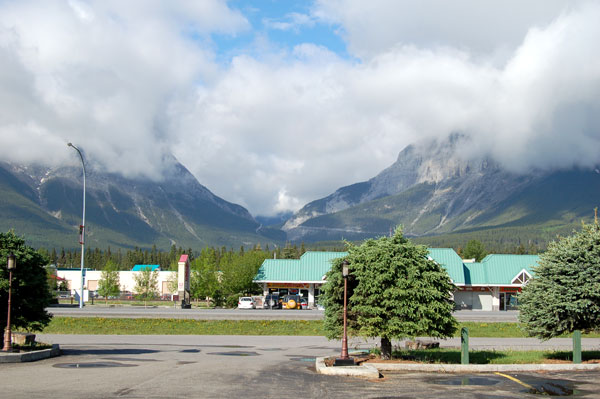 I stopped for the night in Canmore, Alberta, west of Calgary and just a few miles from Banff National Park. It was rainy and foggy when I got in but the next morning this is what I saw when I looked outside – a preview of what was to come on my ride up through Banff and Jasper National Parks.