Monday, June 10
     Red Bay, NL to Deer Lake, NF
     244 miles; sunny; SW winds up to 40 mph; temps mid 40's to 50′s
This was a relatively long day with the ride down to Blanc Sablon, QC to get the ferry to St. Barbe, NF, and then the ride down to Deer Lake, NF.
The terrain south of Red Bay is barren and wind swept, like much of the Labrador coast.
Icebergs had accumulated in the bay at Forteau, NL – the east coast of southern Labrador is known as "iceberg alley." The coastal area of Labrador is stunning in it's natural beauty.
The west coast of Newfoundland is rugged and dramatic, similar to the northern California coastline. The northern peninsula of Newfoundland is home to two World Heritage sites – the Viking settlement at  L'Anse aux Meadows on the northern tip of the peninsula, and Gros Morne National Park along the mid-coast. We didn't take time to visit either on this trip as we had both seen them on earlier trips.
All afternoon we faced a strong SW wind which we estimated to be up to 40 mph. Strong winds are not unusual on Newfoundland's west coast as these trees attest.
Tuesday, June 11
     Deer Lake, NF to Channel-Port aux Basques, NF
     169 miles; partly sunny; strong SW winds; temps mid 40′s to mid 50's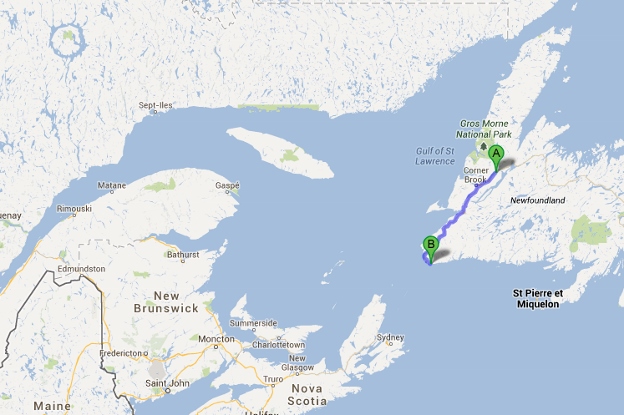 Today's ride to Channel-Port aux Basques was relatively short, giving us plenty of time to make reservations for the ferry tomorrow to North Sydney.
Wednesday, June 12
     Channel-Port aux Basques, NF to North Sydney, NS
     Ferry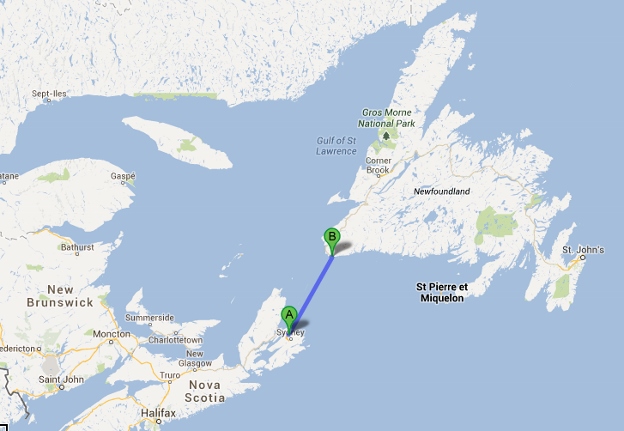 No riding today. We arrived at the Marine Atlantic terminal at 9:00 am, were the boad in several hours, and completed our 6.5 hour passage by 6:30 pm Nova Scotia time.
Our ferry, the Blue Puttees, was new and designed for maximum efficiency in transporting travelers and trucks from the mainland to Newfoundland and back.
The Blue Puttees had three decks (1, 3 & 5) for cars and trucks.. Vehicles drive directly onto decks 3 and 5 from the staging area, and use a ramp inside the ship to go down to deck 1. Vehicles parked 7 wide on deck 3 where we strapped our bikes down for the ride. Our crossing was unusually smooth.
Tomorrow we begin our ride back to Topsham, ME, the end of Paul's trip, and I will ride on to Cleveland.