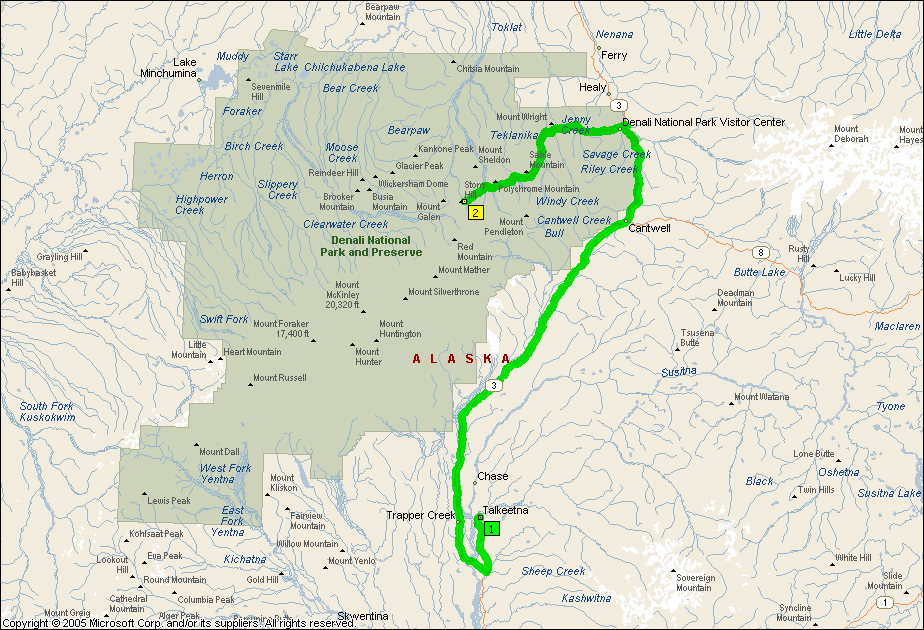 Denali National Park and Preserve was the focus of this segment. I took a flight-seeing trip into the park from Talkeetna, then rode up to the Park Headquarters and took one of the shuttle buses back into the park.
Day 18 – Monday, June 18 – Talkeetna
Today was to be a mountain top experience – well, almost. I investigated the possibility of a flight seeing tour and found room on a flight with Hudson Air Service as they transported several climbers up to base camp.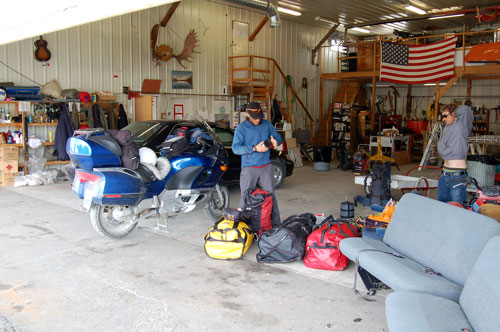 Here we are Hudson Air's hanger. Andreas, from Columbia, is on the left, and Dan is on the right. Both had just guided climbs of Mt. McKinley and were now taking a week to do a climb of their own.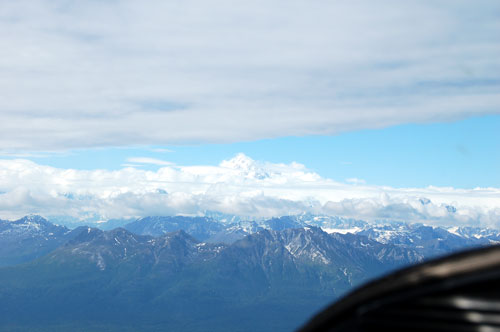 We are on our way to base camp. Mt. McKinley is the peak that is jutting above the clouds –  this is the east face. "The mountain," as they call it, is 20,320 feet high and is visible only 1 of 3 days out of the year. We had to wait until late afternoon for the visibility to improve enough to make the flight.
We're a little closer, here, and are flying over a glacier.
I think this is Ruth Glacier, more than 10 miles long and over 3,000 feet thick. It moves down the gorge at the rate of 3 feet per day.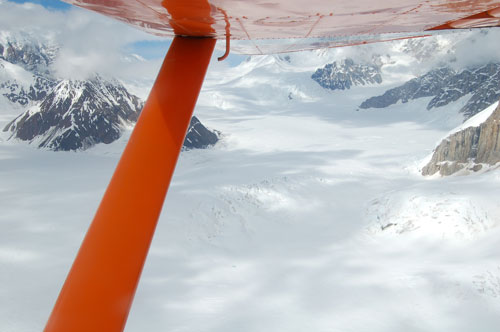 Another glacier. I'm sorry I can't remember the names of all of them. After a while they all looked the same to me but Jock, our pilot, knew them all.
We landed on Kahiltna Glacier, 40 miles long at an 7,000 elevation. The landing was pretty rough and bouncy, but eventually we settled onto the glacier and got the plane turned around, ready to take off again. It was rather balmy, and the snow on top of the glacier was wet.
Andreas and Dan were excited. I thought they'd be tired of climbing mountains, but when they explained they didn't have to look after anyone, could go as fast as they want, do more technical climbs, etc. I understood. They were both very nice young men and, as you can see, in peak physical condition. They both downed dishes of ice cream before we left the hanger to try to put on some of the weight they had lost on their recent guiding climbs.
This is the base camp from which climbers usually begin their climb of Mt. McKinley. The mountain is in the background – we are looking at the south face here. The climbers in the picture had just arrived before us and were setting up their camp.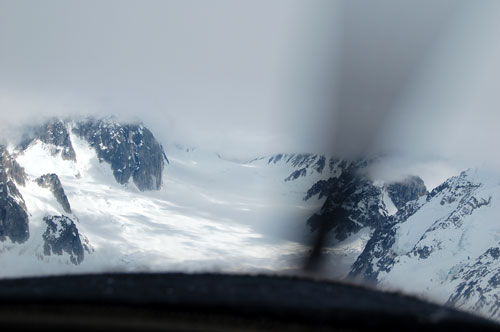 To take-off we headed down the glacier, bouncing all the way and as we crested a little rise in the glacier we got airborne! Here the pass on the usual route back to the hanger was fogged in so we had to try the next one.
We finally found a pass clear enough to go through and made it back in fine shape! This was an exhilarating and awe-inspiring trip. I had complete confidence in Jock, who had piloted in these mountains for 20 years.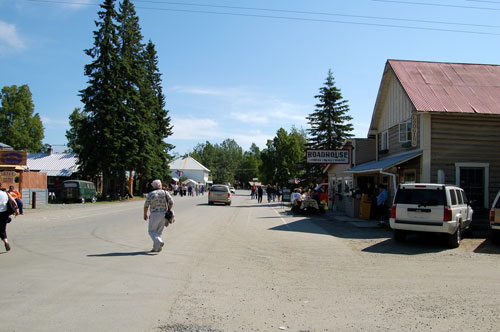 I ate breakfast the next morning here at the Boarding House on main street Talkeetna. They had wireless service and I spent several hours updating my website.
Day 19 – Tuesday, June 19 – Denali National Park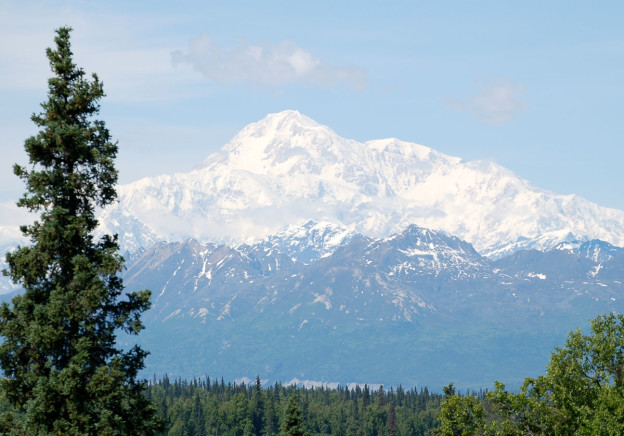 Thinking I had already had optimal viewing conditions for Mt. McKinley yesterday, I wasn't expecting to see even more stunning views. But on my way from Talkeetna north to Denali Park I pulled into the South Viewpoint area and saw this breath-taking sight (click on the photo to see full size). The sky was almost cloudless at this point, and the mid-morning sun illuminated the mountain in all it's grandeur. The mountain is about 35 miles northwest from where I took this photo.
This photo shows the size of the mountain in relation to the surrounding peaks. The next tallest peak to the left of McKinley is Mt. Hunter, I believe, which is 14,573 feet high. This is the peak that Andreas and Dan, whom we dropped off at base camp yesterday, were planning to climb. From a distance Mt. McKinley simply dominates the Alaska Range of mountains.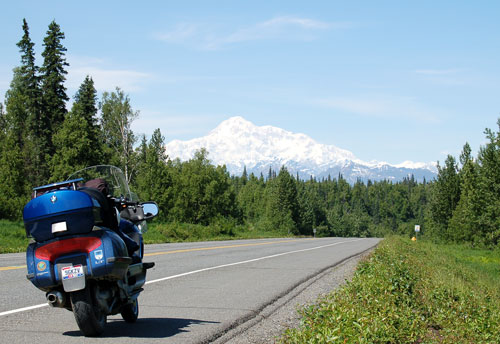 As I rode today I would occasionally get another view of Mt. McKinley as I crested a hill or rounded a bend in the highway. It was an awesome ride – unforgettable!
Before I stopped for the night I got a ticket for the park shuttle bus for tomorrow that would take me 26 miles into the back country on Park Road.
Day 20 – Wednesday, June 20 – Denali National  Park
Denali National Park and Preserve includes 6 million acres of land – 9,492 square miles – an area larger than the State of Massachusetts. The park includes Mt. McKinley, the tallest peak in North America. Much of the park is wild and in its natural state, and is managed to maintain this wilderness character. Vehicular access to the back country is restricted to park busses, which were provided beginning in the 1930's.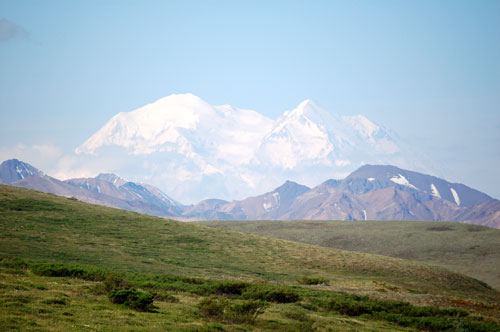 We left on the shuttle at 7:30 a.m. today, and before long we had this view of the northeast face of Mt. McKinley. We got closer later in the day, but the clouds moved in and we weren't able to see the mountain at all. Because of its height, Mt. McKinley makes its own weather. Temperatures can fall to -95F (actual, not wind chill), and winds can get as high as 150 mph.
I was so oriented to looking at mountains and animals that I nearly overlooked the small things. Here are some bluebells near one of our stops, with a bee looking for breakfast.
Here are some beautiful fireweed flowers.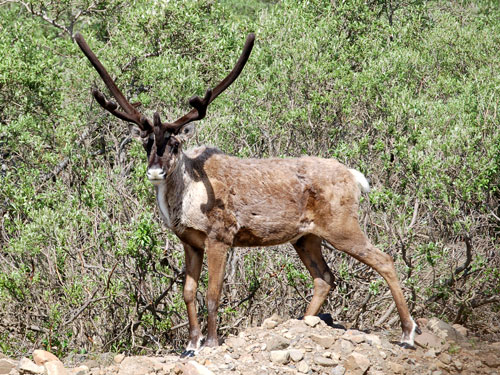 Mainly, we kept on the lookout for animals. The Park is maintained in its natural state, except for the Park Road that goes deep back into the park. We had to be very quiet on the busses and not hang out the windows when we spotted animals, so they would not become habituated to humans. They basically ignore the busses, so visitors like me get to see the animals in their natural habitat and normal behavior. This is a caribou, of which there are many in the park. This one appears to be a fairly large male.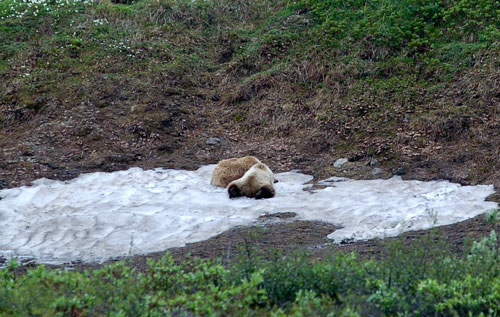 For some reason we were all most interested in seeing grizzly bears. We  spotted five on the 8-hour trip, including these two that were trying to keep cool by snoozing on a pile of snow. The other grizzlies were much further away, but were more active.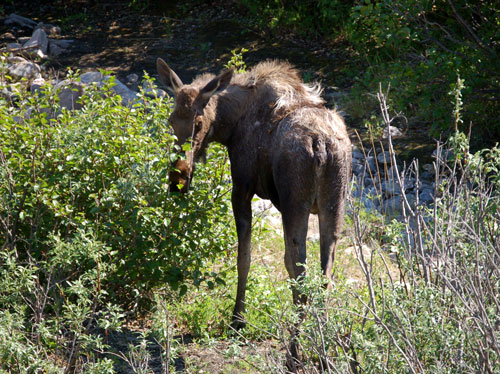 This moose was close to the road, but again we got the rear end view. We also saw a fox, many doll sheep, and a Gyrfalcon, but they were all too far away for me to photograph.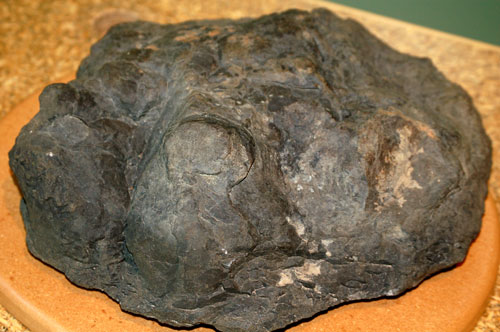 I stopped at the Murie Science and Learning Center to see the cast of the dinosaur footprint that was discovered in the Park. This came from a Theropod that lived a few million years ago!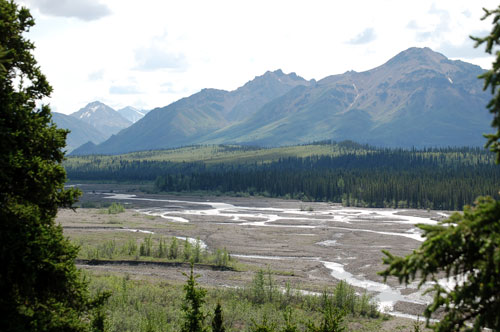 We saw several braided rivers today. These rivers carry off the water from the ice melt from receding glaciers. The park remains largely in its natural state, much as it was when the Athabascans lived in the area.