Friday
, June 4:  St. Georges, NL to North Sydney, NS (89 miles)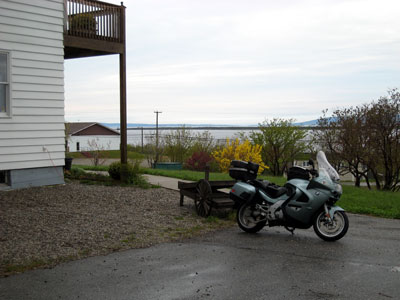 We got up for 7:30 breakfast this morning so we could make the 11:30 ferry in Port au Basques that would take us to North Sydney, Nova Scotia. It was raining when we got up, but stopped by the time we loaded the bike. Then, on the way down to North Sydney, about 100 miles, it started raining again. There was a section about 20 miles north of North Sydney where signs were posted warning trucks and trailers of the high winds. Sure enough, this was one of those days and we got blown around pretty good. I could tell one time Elaine thought we were going down. Fortunately, we made it to the ferry intact and on time.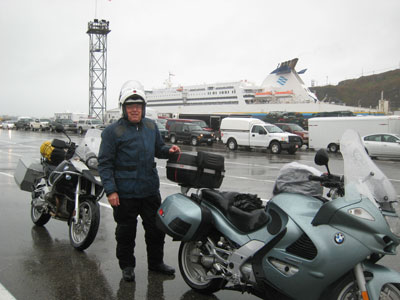 It was a steady rain at the ferry terminal. We parked the bike and headed for the terminal building to get out of the rain. We boarded about a half hour later. They put the bikes on the boat first, and put them off first.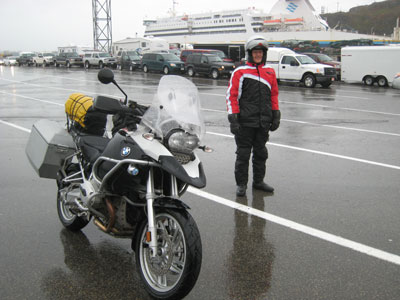 We met another BMW rider from New Brunswick waiting in line for the Ferry. Steve had just ridden the Trans-Labrador Highway and, like the others I had talked to about it, did not recommend the trip. He made it OK, but had to get off the bike several times to move big rocks out of the way. They are still working on a 50 kilometer portion of the road and it is very rough in places. Steve met a young strapping man from New York riding a F650 who had dropped his bike twice, breaking the shift lever. Steve also reported bad potholes in the last 50 kilometers before Red Bay, and sand in other places. He didn't encounter any mud.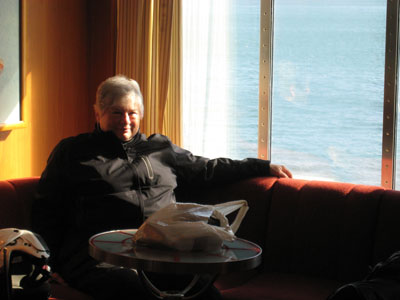 Once on the ferry we found a comfortable place to hang out for the 5 hour trip and soon felt the engines rumbling and the bow thrusters roaring. Then the captain came on to say it was too windy for the boat to get away from the pier and we would wait another hour and try again. Elaine and I had a nice lunch buffet on the boat. And now, just as I'm writing this, we tried again and this time we got off. This is a new ferry and a very nice one – and fast. The server said we could make up most of the lost time.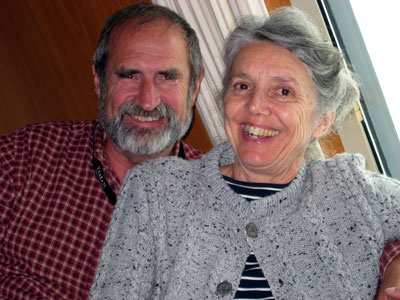 We saw Michel and Michele on the ferry. They are like old friends – we first met them on the Lower North Coast ferry and had dinner with them several times, then saw them again on the ferry from Blanc Sablon to St. Barbe, and a now third time on the ferry to North Sydney. They are a delightful and interesting couple from Ottawa. We had a great time telling stories of what we had each seen on our travels, and of health care in Canada as compared with the U.S. Michel is a physician and Michele a nurse.
Once we got underway, we made the crossing without incident. After docking at North Sydney we went down and untied our bike and rode to our motel at the top of the hill, overlooking the ferry. Tomorrow we begin our 3-day ride back to Topsham, Maine.
Saturday
, June 5:  North Sydney, NS to Truro, NS   (195 miles)
Once we got off "The Rock" (Newfoundland) things seemed less remote and, frankly, less interesting. We were (at least I was) thinking the leisurely, adventuresome portion of the trip was pretty much over and we were now headed home, so I didn't take any photos. (Elaine says this is always the way it is with me the last day or two of vacation.)  Today was overcast and cool — the rain held off until early afternoon and then it came down pretty steadily. We found a Comfort Inn in Truro and settled in for the evening. We decided to carry in our dinner so we wouldn't have to go out in the rain again. KFC was definitely not up to the standard we were used to in the local eating spots we usually found along the way.
Sunday
, June 6:  Truro, NS to St. George, NB   (244 miles)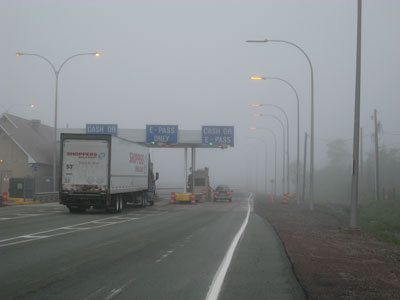 Today it was rain, drizzle and fog all day. It rained pretty hard as we rode through St. John, NB, but it didn't come down in sheets like it sometimes does. We stayed pretty dry, but were happy to find our motel for the evening in St. George, 30 miles from the U.S. border.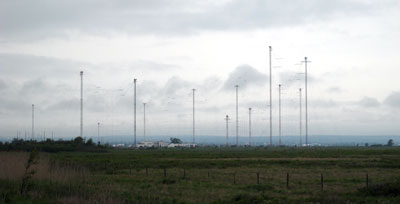 Being a ham radio operator and short-wave listener I stopped to snap this photo of the "antenna farm" at Radio Canada International just outside Sackville, NB. In addition to RCI broadcasts the station relays broadcasts for many international shortwave stations to expand their reach to North America and other parts of the world. The station can broadcast ten or more programs simultaneously. I had visited the station on an earlier trip, but I didn't get a photo of the impressive antenna arrays.
Monday
, June 7:  St. George, NB to Topsham, ME   (281 miles)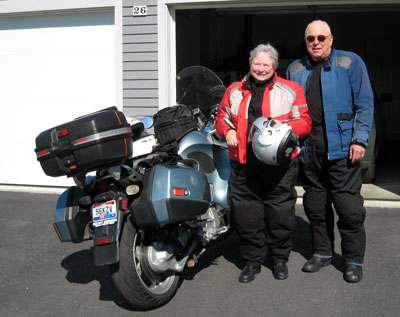 This was our longest ride of the trip, 281 miles, and it took us most of the day. We took a "detour" south off the Airline highway (Maine #9) to do a bit of riding along the coast of Maine. On our way we passed through the "blueberry capital of the world," past Wyman's of Maine blueberry fields and packing plant near Ellsworth on route 193. It was a long day, but we made it back to the Wilson's by around 4:00 pm, tired and ready for G&Ts graciously offered by Paul and Linda. That evening we celebrated the end of our adventure with Paul and Linda at one of their favorite seafood spots along the Kennebec River in Bath. A great end to a wonderful trip.