Tuesday
, May 25:  Sept-Îles, QC, to Havre-Saint-Pierre, QC (138 miles)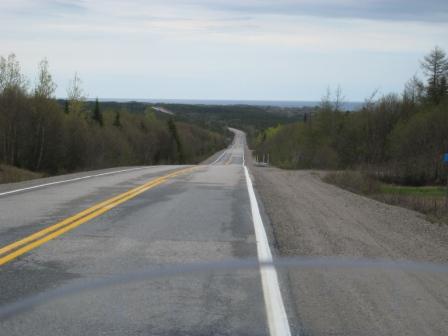 We hit the road at our usual time (11:00 a.m.) with the temps hovering around 50. During the day they dropped as low as 45, near the shore, but remained in the upper 40's all day. We had an hour of light rain, but with the gear we stayed dry and warm.
The terrain reminded me of Alaska. A lot of flat, somewhat barren, bog-like terrain that resembles the permafrost regions in northern Alaska. But its not really permafrost, it's the St. Lawrence lowlands.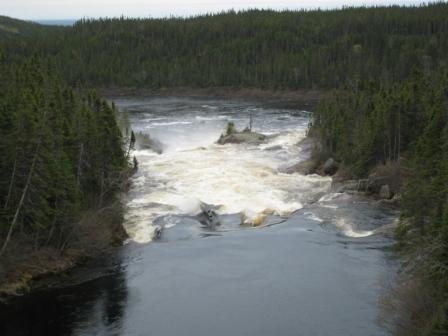 There is also a lot of forested land with lakes and rivers, here the Chute Manitou falls. Hydro electric generating plants are one of the three main industries in this part of Quebec province, and we see dams and power lines quite often during the day. The other two major industries are forestry and mining (aluminum).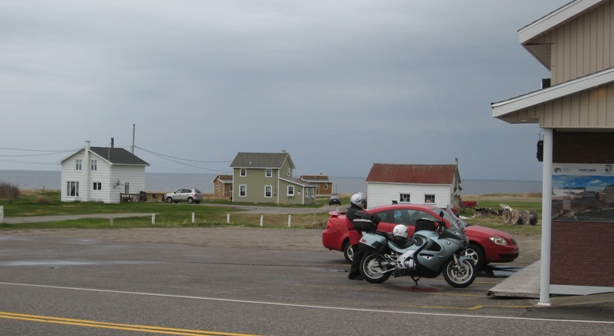 It was a little after lunch time so we stopped at a little restaurant in Rivière-au-Tonnerre (pop. 370), a small village built right along the shore.
We had pie and coffee. I had the sugar pie (left) and Elaine had the raisin pie. Both were served with cream and were delectable. We're kind of getting into this French Canadian eating thing!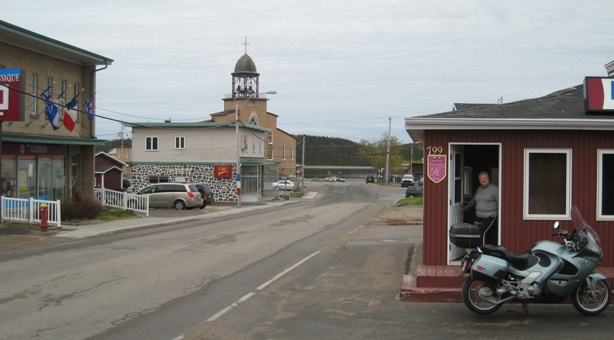 We made it to Havre-Saint-Pierre (pop. 3,170) around 3:30. Three to four hours is about what we like to ride. Our reservation was for the Motel le Relias, a new and very clean establishment built right along the street, and we chose the front room. We felt very much a part of the local scene.
Wednesday
, May 26:  Havre-Saint-Pierre, QC, to Natashquan, QC (96 miles)
It was raining when we got up this morning, but by the time we were packed up and ready for a walk the sun had come out. Havre-Saint-Pierre is situated in a natural harbor near the Mingan Archipelago National Park Preserve of Canada. This is a kayakers' paradise – not much for motorcyclists – so we just looked across the water.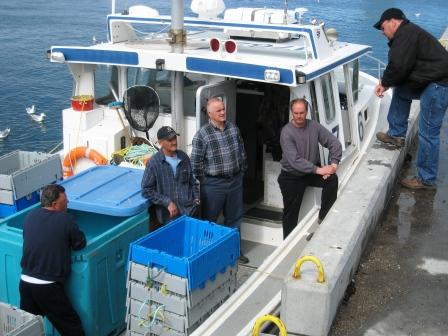 The harbor in Havre-Saint-Pierre is home to commercial fishermen. These guys had just unloaded their boat – another was over at the scales getting ready to unload. A poissonnerie (fish market) was next door. We were looking for coffee or breakfast but the poissonnerie had neither. As it turned out, we didn't find anything to eat until we got to Natashquan!
The highway today from Havre-Saint-Pierre to Natashquan took us mainly through marshlands. We saw almost no wooded areas today. When we left Natashquan it was sunny with the temps around 60. By the end of our ride it had clouded over and the temps had dropped to the mid-50's with a lot of wind.
We have seen a lot of these signs along the way, but no whales or moose. We're hoping to see whales on the ferry the next two days, and perhaps moose in Newfoundland. I may have to go out riding at night if I really want to see a moose!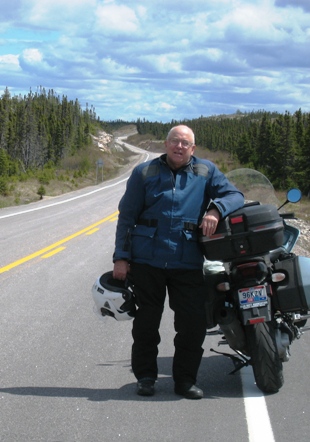 This was one of the few forested areas of the road today, with some nice curves up ahead. The roads have been in very good to excellent condition all the way along the north coast. The asphalt is new in places, and has small patches in other places. The road is generally smooth, although today we rode over a lot of dips – every hundred yards it seemed. I don't  know if these were caused by the freezing and melting, or what. The road is built up 3-5 feet above the surrounding area to provide a solid roadbed, so there may be some shifting going on. In any case, the roads are perfectly good and not at all an issue for motorcyclists.
This is Maison Johan-Beetz in Baie-Johan-Beetz. Don't know who he was? Me either! Actually, he was a painter and sculptor who had this home built in 1897. The house and its environs are somewhat characteristic of the homes along the coastline. Some of the houses are painted  in bright colors which adds to character and beauty of the settlements.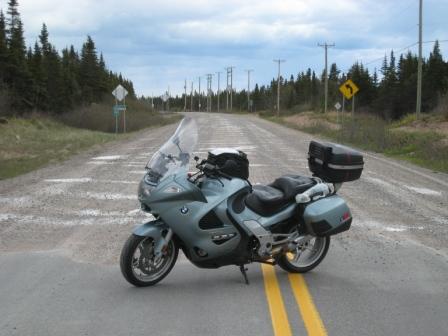 This is what I had been looking forward to — the end of the road! A gravel road continues for a few more miles, but there are no other roads connecting the communities further east along the north coast. That is where the ferry comes in, and we will board that tomorrow morning. There's just something about riding to the end of the road that appeals to me…
PS. We learned later that the government has been building a road from Natashquan to the next settlement to the east for 9 years, and they are still working on it!
When we arrived in Natashquan (pop. 270) around 2:00 pm we found the only restaurant in town and chowed down. We were hungry! After breakfast/lunch we  went down to the Relais Nordik office on the pier to make final arrangements to board the ferry tomorrow morning. We are to be there by 5:30 a.m. so they can put the bike in a container to put it on board the ferry.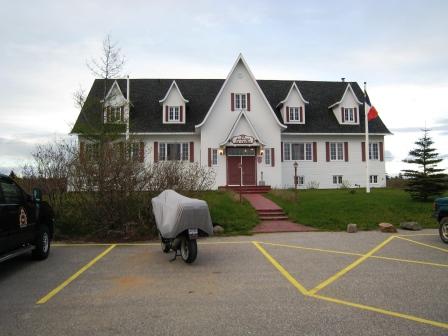 Our B&B in Natashquan was built out on the edge of town where it caught the full force of the winds, which were strong enough to physically shake the house!
We'll have a lot to tell you about the ferry trip, but that will have to wait at least several days. We will be on the ferry until about 6 pm Friday evening (2 days and 1 night), and won't have Internet access while on the boat. People who have made this trip before us described the ferry trip as the high point, so we're excited to get on with our experience!
PS. I learned later this evening that there was no access to high-speed Internet in Natashquan. The municipal building had it, but they weren't open in the evening. Everyone else makes due with telephone access. Result: I wasn't able to upload this page to my website for several days – not sure now just how many (5/27 8:30 pm).