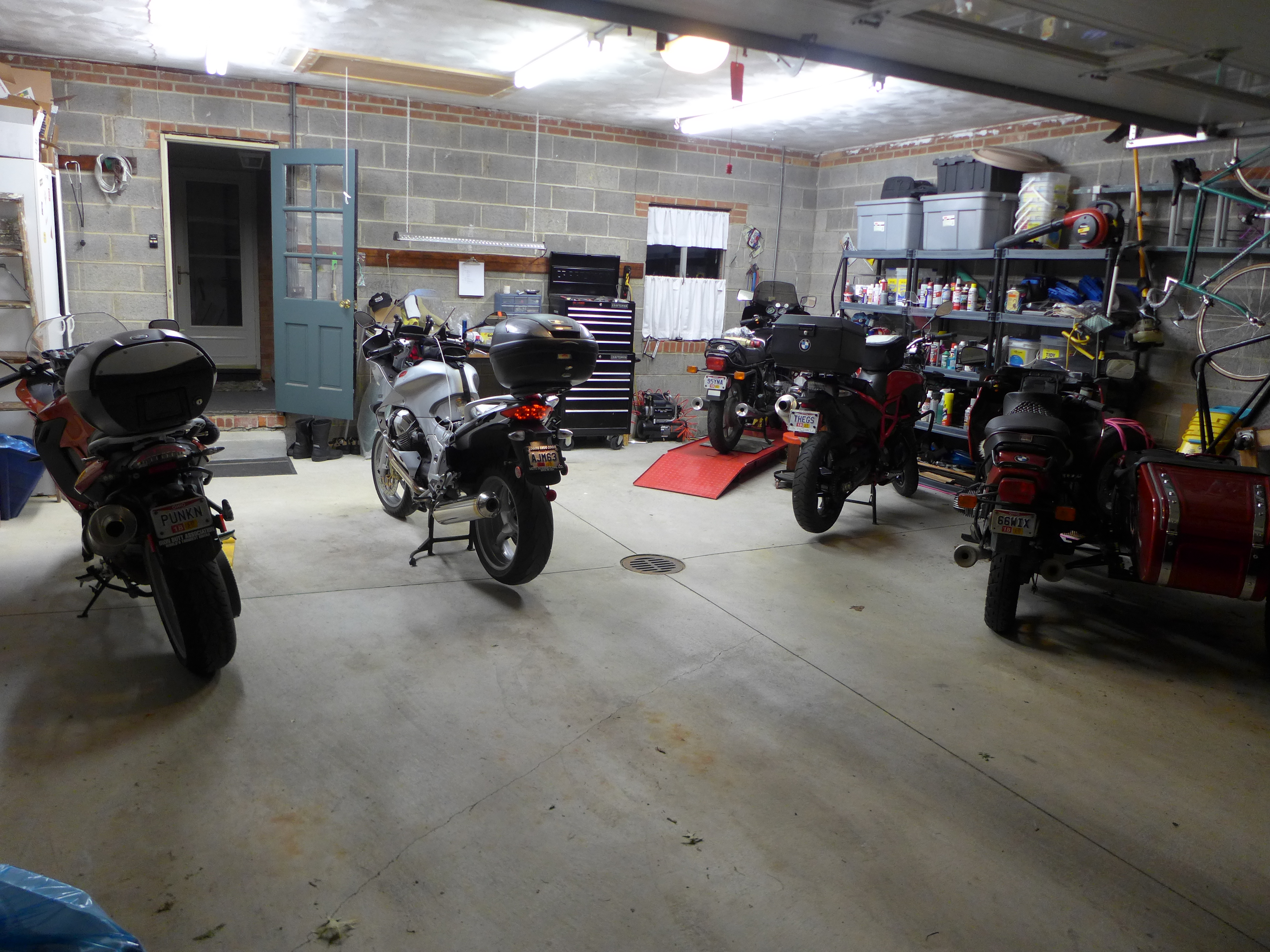 Soon after I bought my second bike, a BMW R1100RS, I had a chat with my good friend Stuart Kirk and mentioned that I would be selling the K75. He wrinkled up his face and asked why would I do that, and I responded that I only needed one bike. He replied in all seriousness, "I don't think I know anyone who has only one bike." Well, that was the nudge I needed to get started on my revolving collection. Several years later when we sold our second car an entire half of the garage opened up to accommodate my growing copllection.
Here, in chronological order, is a listing of the motorcycles I've owned and how they found their way into my garage. A click on any of the bikes will take you to a page with more info and photos on that bike.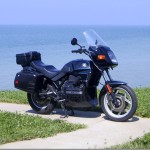 1993 BMW K75  — I bought this one in 2004 after searching the want ads in the local paper. The bike was in nice shape, I rode it home, and that was the beginning of my motorcycling "career." I sold it in 2006. It was difficult to part with the bike; I soon regretted selling it and wound up buying another K75 two years later.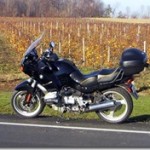 1999 BMW R1100RS  — While visiting our son Chris and his family in Minneapolis over the 2005 New Year I happened on to a very nice '99 RS at a dealer. He accepted my ridiculously low offer, so we trailered it back to Cleveland. I sold the RS in 2009, along with my LT, and replaced them with a K1200GT.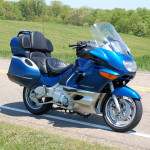 2001 BMW K1200LT — In anticipation of our 2-up tour of Nova Scotia and Newfoundland in the summer of 2006 I found a nice LT, a big, roomy, powerful touring bike, locally and purchased it. By 2009 I had tired of lugging the 800 pound "Blue Pig" around the garage and sold it to make room for the GT.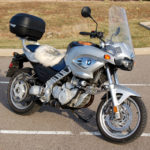 2001 BMW F650CS — After selling the K75 I decided I wanted another smaller, lighter, and more fuel efficient bike for around town. In November 2007 I purchased the CS in New Jersey not far from where my  son Geoff and his family live. The F650CS was a nice bike, but it just didn't quite feel like a real motorcycle, so I sold it a year later.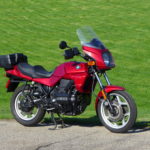 1994 BMW K75  — By 2008 I was really missing my '93 K75. I tried to track down the young man who bought it from me 2 years earlier to see if I could buy it back, but I didn't have any luck. By fall I found this '94 with ABS, low miles, in like new condition and rode it back to Cleveland. The K75 is legendary for its reliability and has something of  a cult following.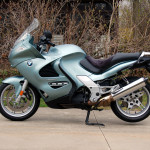 2001 BMW 1200GT — This GT, which I found in Akron, was a replacement for the RS and LT. It had the same marvelous engine as the LT, but was 200 pounds lighter. It was a comfortable, sporty, mile-eating cruising machine, but its weight eventually got to me and I so I let it go. Elaine and I had a memorable trip on this bike to Newfoundland.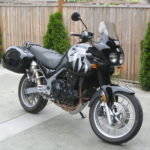 2006 Triumph Tiger 955i — Having just retired in the summer of 2010 I was visiting my older son living in Seattle, and it occurred to me that I should probably have a bike out there, too. I began looking for a BMW GS (dual-sport model) but found instead a very nice 2006 Triumph Tiger at an attractive price. The triple engine was a one sweet motor!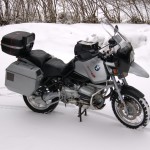 2001 BMW R1150 GS — As my plans firmed up to ride the Trans-Labrador Highway (gravel road) in summer 2011 I looked for a suitable bike and found this GS at a local dealer. It was properly outfitted for the ride – rugged cases, Ohlins suspension, and good windscreen. I should have had this bike for my ride to Alaska in 2007.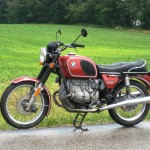 1976 BMW 90/6 — I first aspired to owning a BMW in 1975 when I was a doctoral student, and this is the bike I would have owned then. The R90 is a classic "airhead" and I bought this fine example from a BMW enthusiast in the hills of West Virginia. It was my first opportunity to delve into the maintenance and upgrading of an airhead.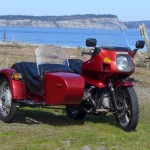 1988 BMW R100RT/Ural sidecar — I had been thinking about a sidecar rig for several years. As luck would have it a friend of mine in Seattle, Dwight Gibb, put his rig up for sale and I jumped on it. This rig opened up a whole new world for me and has become my "go to" bike for errands around town and all weather riding.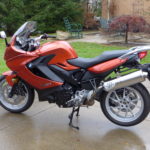 2013 BMW F800GT — As years passed the taller and heavier bikes got to be more of a challenge for me to move around the garage and handle them at low speed. This mid-sized GT could do any kind of riding I wished except off-road where the belt drive was vulnerable to stones. This was the first bike I purchased new.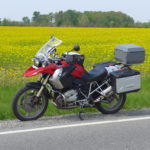 2010 BMW R1200GS — I put a lot of miles on the R1150GS, but it also got to be a tall, heavy bike. A club member put his 2010 model with low suspension up for sale and I bought it. The bike was considerably lighter than the 1150, lower, and more powerful, with the imiproved "cam head" engine. This was the first of several down-sizing steps in my GS bikes.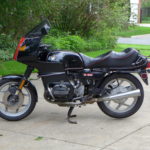 1987 BMW R80/RS conversion — The R90 whetted my appetite for working on the older airheads, so I began looking around for a "project bike." This R80 became available in Cape May, NJ and I bought it for a good price sight unseen. The clutch was frozen, the carbs leaked, and it hadn't been run for several years, all of which I was able to address at little cost.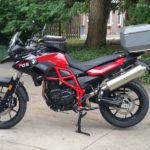 2015 BMW F700GS — Even the lowered R1200GS was beginning to seem tall and heavy compared to the smaller bikes I was moving toward, so I traded it on a new F700GS. It was 50 pounds lighter and easier to handle, but it still had plenty of power and was more than capable of the kind of off-road riding I like to do.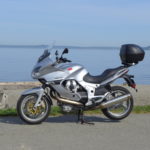 2007 Moto Guzzi Norge — Much as I liked my Tiger it, too, was feeling tall and heavy. I looked around for a smaller bike in Seattle and found this Norge at Moto International, a couple of miles from my son's house. It wasn't lighter but it carried its weight low, and it was my chance to try a Guzzi, something I had been wanting to do. Guzzis have loads of "character."
2016 Moto Guzzi V7 II — I rode the Norge back to Cleveland, so now I needed a bike in Seattle again! I found this brand new V7 II at Moto International at a blow out price and bought it. This is a really small, light bike (450 lbs.) that is loads of fun to ride around town. It has the Guzzi charm and character along with modern technology such as fuel injection and ABS. Bene!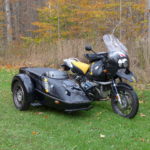 2004 BMW R1150GS Adventure/Hannigan Sidecar — Elaine indicated she might be interested in riding again if I had a sidecar that was easy for her to get in and out of. After trying out quite a few at the national rally we found the Hannigans fit the bill, and within a few months I located this rig near St. Louis. It's definitely more comfortable and road-worthy than the R100RT rig.