Monday
, May 31:  St. Anthony, NL to Port au Choix, NL (124 miles)
This picture was taken in Griquet, on our way up to L'Anse aux Meadows. It's typical of the look and feel of the coastal communities. 

One of the sites we really wanted to see on this trip was L'Anse aux Meadows, where the Vikings landed about 1000 A.D., establishing the first known presence of Europeans on the North American continent 500 years before Columbus "discovered" America. L'Anse aux Meadows is on the very northern tip of Newfoundland, about 30 miles north from our B&B in St. Anthony. With the weather as it was today, we really had to marvel at the bravery and ingenuity of those people 1000 years ago to make it from Norway to Newfoundland in open boats. You can see icebergs in the distance on this photo.
Here is a re-creation of what the Vikings' sod huts must have looked like.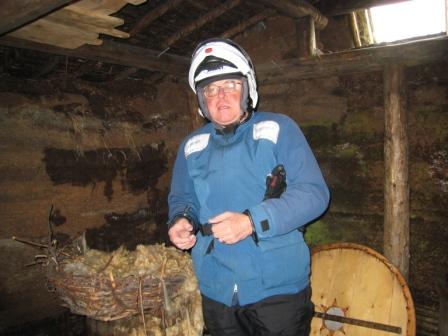 Inside the huts we found it quite warm, relatively speaking.
The visitor center wasn't open today and we were on our own at the site, so we had a quick look around and left. No messing around. It was really cold and inhospitable, and we were eager to have the wind to our backs! We stopped at The Daily Catch for a most amazing lunch. The seafood chowder was outstanding, as was the partridgeberry pie – everything was home-made. We got to our B&B in Port au Choix by mid-afternoon, and were really beat. It took a good swig of Scotch (Vodka for Elaine) to rejuvenate us.
Today was a cold, blustery, wet day. The temperature got down to 37 at one point and hovered right around 40 all day. The flags were flying straight out, to the south. We put on everything we had to keep warm but we still got cold. At one point we stopped at a highway maintenance station to get out of the wind to put on more clothes, and a couple of the crew pulled up and invited us inside to warm up and use the facilities. What a godsend – I should have taken their picture. Their main job is to keep the long, fairly deserted stretch of road cleared of snow in the winter.
Tuesday
, June 1:  Port au Choix, NL to Rocky Harbour, NL (101 miles)
This morning the weather was much more amenable. It would get into the upper 40's today, with partial sun and little to no wind, a welcome change from yesterday. Part of the morning ritual before setting out is to check the tire pressure – 36 in front and 42 in rear. With only two wheels you want to make sure both are working as they should!
Jeannie, our host at Jeannie's Sunrise B&B, told us the plot of land adjoining her's is the burial site of Aboriginal cultures from 5000 years ago. When you think about it, it really stretches your imagination. Jeannie told us that these cultures came from a different line than today's First Nations Peoples – Newfoundland turns out to be an important place in tracing the cultural origins of the different inhabitants of North America. Perhaps it has something to do with the fact that Newfoundland contains the eastern most point of contiguous land on the North American continent.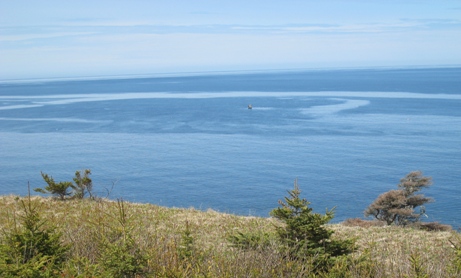 Yesterday up at L'Anse aux Meadows we saw whitecaps and icebergs; today we saw almost glassy seas of a beautiful aqua color. The locals told us yesterday was unusually cold.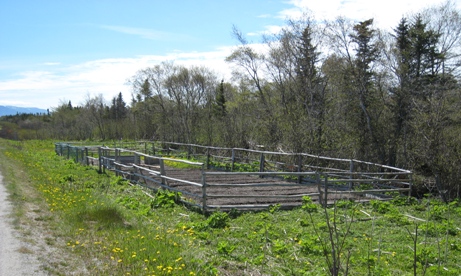 We've seen a lot of roadside gardens on the peninsula. The soil is already cleared and apparently free for anyone who cares to use it. The fences are to keep the moose and caribou out. We've been seeing moose fairly regularly the last several days, but no caribou. Hunters come to this area to look for black bear, along moose and caribou. A little cafe down the street from us this evening is advertising moose soup. I don't know about that… Moose roast, on the other hand, would be pretty tasty – maybe we'll get a chance for some of that before we leave the island.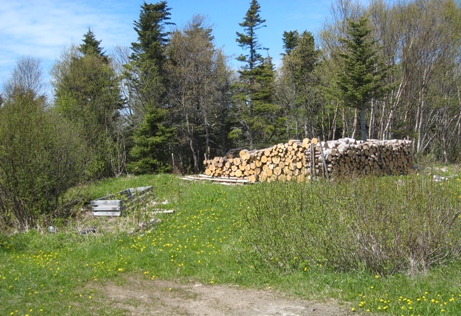 We've also seen a lot of wood piles like this along the roadside, often with one or several sleighs nearby that were used to haul the logs to the site in the winter to be cut up and split later. Each resident can purchase a permit for $25 which entitles them to cut up to 10 cords of wood that year. The wood may not be sold, bartered or given away. Ten cords is enough to heat most homes for a winter, and most Newfies heat by wood, I was told.
We happened on to Payne's Bakeryn Parson's Pond right about lunch time and had some delicious home-made pea soup and a ham and swiss sandwich made with the absolute best home-made bread. The bakery is part of a small convenience store that sells, among other things, ketchup flavored potato chips. They definitely taste like ketchup!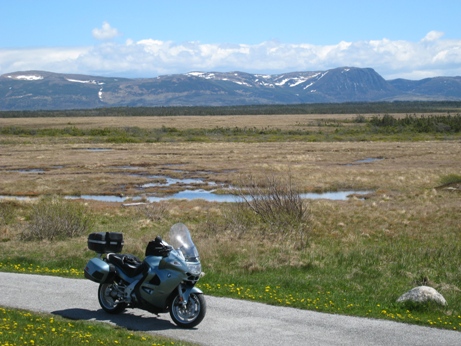 Today's ride was short – only several hours – so we took our time and enjoyed the views and the weather. We rode to Rocky Harbour today, which is situated right in the middle of Gros Morne National Park. Gros Morne mountain is toward the right in the photo above. I plan to take a boat tour of the Western Brook Pond fjord tomorrow and will have lots more to say, along with photos of course. Elaine is taking the day "off" tomorrow to relax and recuperate from the riding. She says she's already seen lots of mountains.