Sunday
, May 23:  Tadoussac, QC to Baie-Comeau, QC (124 miles)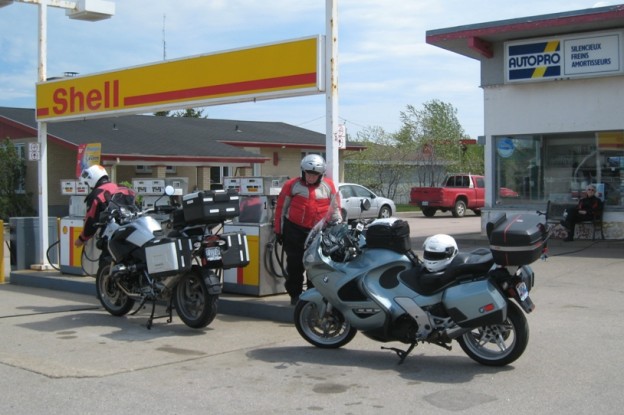 We left Tadoussac around 10:30 this morning after having a scrumptuous breakfast at a little cafe up the street. Tadoussac consists basically of motels and restaurants. Parc du Saguenay, a provincial park that surrounds the river, is apparently a popular tourist destination. The Saguenay fjord is scenic, but accessible only by foot or boat – so we left that for our next trip.Here we stopped at Forestville to gas up.
In case you hadn't noticed, rest stop really does mean REST for the ladies. Elaine naps by the gas pump…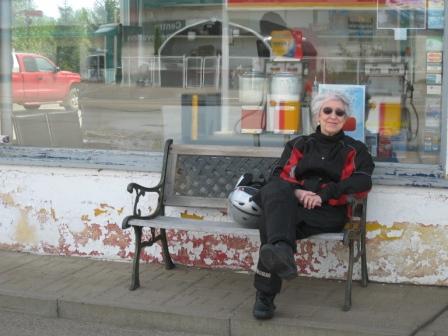 …while Linda sits in the shade.
The ride today was somewhat warm, from mid-60's to the mid-80's. It was mostly sunny, however, with no rain. Once we got to Baie-Comeau we found the ferry for Paul and Linda to take across the St. Lawrence to Matane, QC, and then back home to Topsham, ME.
We had dinner at an old restored hotel in the old center city area. Both our dinners were outstanding! The French Canadians really know how to cook…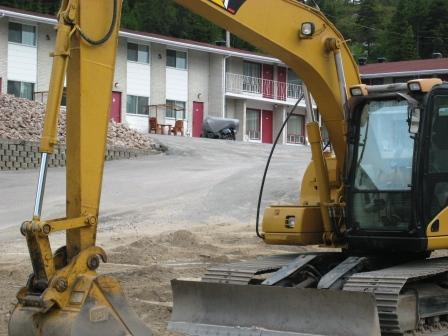 Our motel in Tadoussac wasn't great, but our luck really ran out here in Baie-Comeau! There was a lot of street construction going on, the sand was blowing, and our room was spartan, but clean — and cheap. 
Monday
, May 24:  Baie-Comeau, QC to Sept-Îles, QC (143 miles)
For breakfast we stopped at a little cafe in the old Baie-Comeau. The menu looked fabulous, but we couldn't read French! Luckily, Michel and Eve, the couple at the next table translated for us. They live and work in the area and were very gracious and friendly in helping us decipher the menu and filling us in on life in the area. Meeting folks such as Michel and Eve is one of the great, great pleasures of traveling. (Michel and Eve, if you're reading this thanks for your assistance!)
With Michel and Eve's help Elaine ordered an Italian omelet and I ordered a French pancake (crepe) with strawberries and chocolate. mmm, mmm, MMM!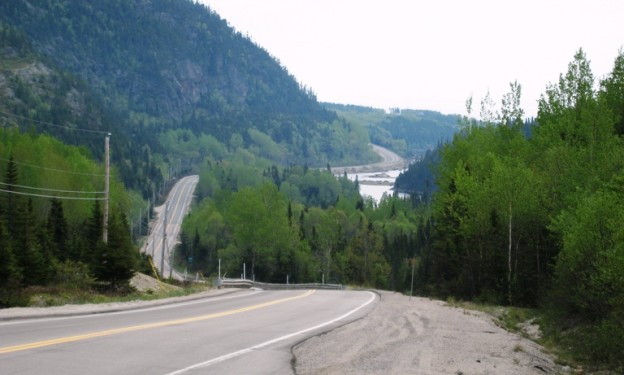 The ride north of Baie-Comeau reminded us of our ride around the Gaspe several years earlier. The road winds its way around the cliffs and up and down the mountains, making for breath-taking views and exhilarating riding. Well, not too exhilarating — Elaine was on the back.
Here we are most of the way to Sept-Îles. We began the day in Baie-Comeau in the mid 70's. By now, early afternoon the temp had dropped to the mid 50's, with fog and light mist. We had to pull out our jacket liners and heavy gloves, and turn on the seat heater and heated grips.
We have seen several dramatic water falls during our ride thus far. This one was at a pull-out right along the road.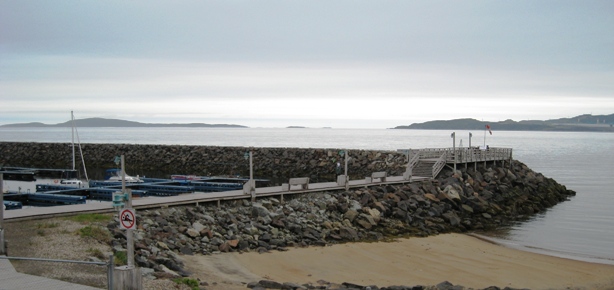 Tonight, we are staying at the Sept-Îles Hotel in, you guessed it, Sept-Îles (pop. 25,865). Our window provides a beautiful view of the Baie des Sept Îles. It's not as chilly outside since the wind died down.
Every couple of days it's time to do laundry…
…and every evening its time to update the web blog. Thanks for reading – we love having company on our adventure.
Tomorrow we are off for Havre-Saint-Pierre, and the next day to Natashquan where we will board the coastal ferry for Blanc-Sablon.